Rialto and its Markets
The ancient heart of Venice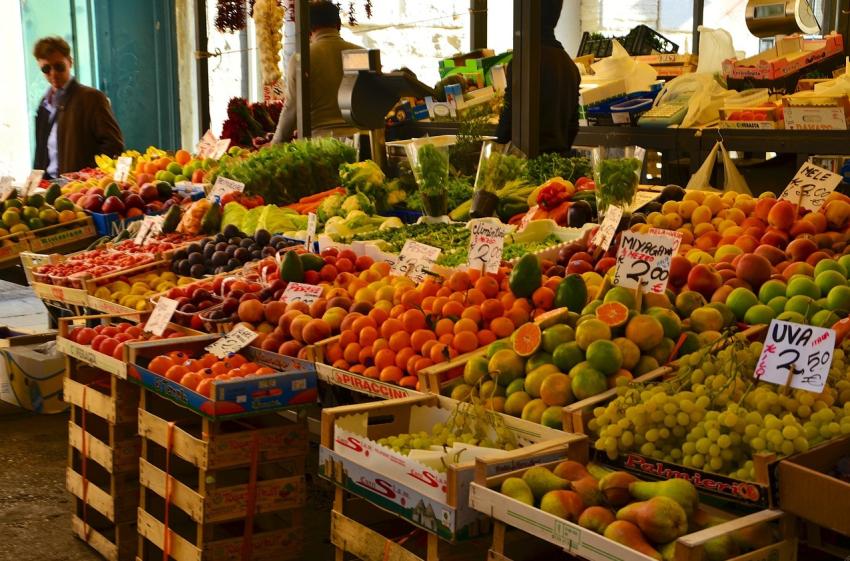 I will buy with you, sell with you, talk with you, walk with you, and so following; but I will not eat with you, drink with you, nor pray with you. What news on the Rialto? Shylock, The Merchant of Venice
The housewives and elderly gents who gravitate here for their daily shopping are continuing one of Venice's oldest traditions. The Rialto markets have been the city's centre of trade – and, as such, the real heart of the Republic's mercantile empire – since the 11th century.
When Venice's first bank, the Banca Giro, was opened in the 1100s others quickly followed, making the Rialto the medieval equivalent of Wall Street, Europe's most glittering and powerful exchange, controlling the commercial links between East and West; in its houses incredible fortunes were gambled, won, or lost. 'All the gold of the Orient passes through the hands of the Venetians,' grumbled one commentator.
And so it did until 1499, when news of Vasco da Gama's voyage around the Horn caused several banks instantly to fail. Those that survived saw their establishments burn to the ground in the great Rialto fire of 1514, one of the most disastrous in the city's history.
The northern edge of the markets, along the Grand Canal, is occupied by the lively neo-Gothic halls of the fish market, or Pescaria built in 1907 to replace an iron shed. Behind it is tiny Calle dei Beccarie ('Butchers'); beyond Campo Beccarie lies a maze of even narrower lanes where sugar was once sold for its weight in gold, and pepper and spices for only slightly less.
On the Grand Canal, the porticoed Fabbriche Vecchie were built after the fire by Scarpagnino, continued by Sansovino's curving Fabbriche Nuove di Rialto (1554), now the city courts.
The Erberia, the fruit and vegetable market, fills most of the space between the Grand Canal and the Campo San Giacomo (with the church of San Giacometto); here, amid the veg, seek out the famous Gobbo or 'hunchback' of Rialto. The big white building next to the Rialto Bridge is the Palazzo dei Camerlenghi (1528).
The Ruga degli Orefici ('Goldsmiths' Street) is the raucous main thoroughfare, leading up to the bridge; even though the golden treasures of the East have given way to tourist trinkets, the street and its rows of open-air stands cannot help keeping something of its old colour.
On the south side of Ruga degli Orefici is Scarpagnino's Palazzo dei Dieci Savi, home of the Serenissima's financial ministers.
From here, the Fondamenta del Vin – a good name for a street packed with restaurants and cafés – runs along the Grand Canal, with occasional views of the same over the heads of the gawkers and waiters and gondoliers.
Hours Mon–Sat 7am–1pm (fruit and veg), Tues–Sat 7am–1pm (fish, on Ruga degli Specializi)
vaporetto Rialto