Antonio Vivaldi
The high priest of Baroque music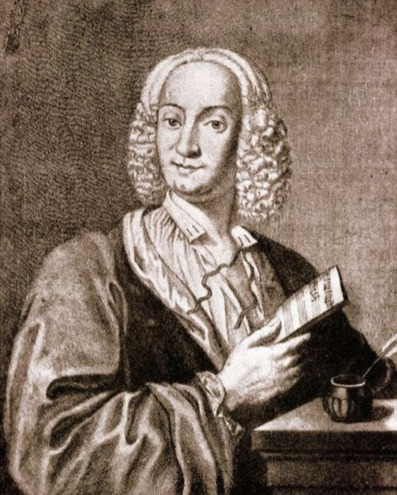 The story goes that when Antonio Vivaldi (1678 – 1741) was born he was so sickly that he was baptized the same day, in San Giovanni in Brágora. Scholars debate whether or not his mother promised him to the priesthood if he should survive, but it was the best way for a young man to get an education. Because of Vivaldi's red hair, he was nicknamed the 'Red Priest' but he never said many masses-he suffered from a tightness of the chest (possibly asthma) that was given a dispensation.
Another reason was because music was his true vocation.
Vivaldi's father was a barber who became a professional violinist; he taught young Antonio his instrument, which he excelled at. In 1703 he was appointed violin master at the conservatory of the Ospedale della Pietà, where he served from 1703 to 1715 and from 1723 to 1740. He an exceptional teacher, and wrote execises and concerti for his students, and made La Pietà famous across Europe. Beginning in 1711, his compositions were published in Amsterdam by Estienne Roger.
When he wasn't working at the Ospedale, Vivaldi was an opera impressario at that now defunct Teatro Sant'Angelo, near the Rialto Bridge) in Campo Sant' Angelo (the Hotel NH Palazzo Barocci now stands on the site). Composing two or three operas a month seemed to be a piece of cake for him (some 50 out of 90+ have survived). In 1716, however, he had his first major triumph with a sacred oratorio, Juditha triumphans, celebrating the Venetian victory over the Ottomans on Corfu, performed brilliantly by the girls at La Pietà, who even sung the masculine parts.
After this he travelled widely (but even when he was away, he still regularly supplied La Pietà with two oratori every month for a two sequins). He went to Mantua, where he wrote more operas for the court and met singer Anna Giraud, who would live with him for the rest of his life.
Vivaldi's reputation spread. In Rome he was patronized by Cardinal Pietro Ottoboni, and reputedly played in a private performance for the Pope (Goldoni described him as 'an excellent violinist but a mediocre composer'). Louis XV in France was a special fan, commissioning music for his wedding and the serenade La Sena festeggiante (Festival on the Seine) to celebrate the births of his daughters.
In 1725, Estienne Roger published Vivaldi's Il cimento dell'armonia e dell'inventione (The trial of harmony and invention), opus 8: twelve concerti that included the revolutionary descriptive pieces The Four Seasons, Storm at Sea, Pleasure and The Hunt. Louis XV reputedly loved 'Spring' so much that he had to have musicians stand by, ready to play it for him at any moment.
Vivaldi met another great fan, the Emperor Charles VI in Trieste in 1728. Vivaldi, his father and Anna Giraud went to Prague in 1730, where he hooked up with a Venetian opera company and put on several operas.
The following year he returned to Venice, and in 1738 he was in Amsterdam, conducting a special festival concert for the centenary of the Schouwburg Theatre. But back home in Venice fashion had moved on. In 1740 Vivaldi resigned from La Pietà and sold off his scores for pennies to finance a move to Vienna, where he hoped to become Charles VI's court composer, only the emperor died not long after his arrival, and Vivaldi died soon after.
Posthumous reputation
In spite of his widespread fame during his lifetime (his compositions had a great influence on Johann Sebastian Bach), Vivaldi was all but forgotten after his death.
Then in 1926, a monastery in Piedmont sent its vast archives to the National Library at the University of Turin. Amid them, Dr Alberto Gentili, a professor of music history, found a huge cache of Vivaldi's work, that everyone believed had been lost in the Napoleonic Wars. He tracked down the missing sets to a descendant of the Grand Duke of Durazzo. For each set, Gentili found benefactors to purchase the works, accumulating the world's most important collection of Vivaldi's compositions for the university library, with 300 concertos, 19 operas and over 100 vocal-instrumental works.
Although there was the beginning of a Vivaldi renaissance in Italy in 1939, organized by Alfredo Casella in Siena, but the Second World War soon cut it short. But when audiences heard nearly an entire season of his work in the Royal Festival Hall at the 1951 Festival of Britian, his modern reputation was secured.
All of Vivaldi's instrumental works (some 550 pieces) have been republished by the Antonio Vivaldi Foundation, part of the Giorgio Cini foundation on the island of San Giorgio. They are currently working on editions of his theatrical works and arias.
You can hear Vivaldi's concerti performed in several locations around Venice, besides La Pietà, including the deconsecrated churches of San Vidal and San Basso and the Scuola Grande San Teodoro.