La Pietà
Vivaldi's church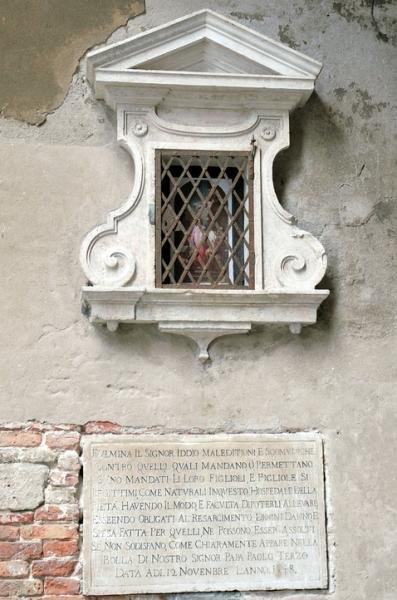 The Venetians call Santa Maria della Pietà (to give it its full name) 'Vivaldi's church'. Its predecessor was attached to a charitable hospital run by the state for orphan girls (founded in 1346) that over the centuries evolved into one of Europe's top conservatories, especially when Vivaldi was chorus-master and violin teacher between 1704–38, composing some of his greatest concerti for its pupils.
Most of these pupils were not strictly what we would call 'orphans': most were the illegitimate daughters of the nobility's mistresses. Generously funded by their fathers, the 'orphanage' was opulent, and the musical instruction was among the very best in Europe. Under Vivaldi's direction, the reputation and fame of La Pietà's Ospedale grew so much that the authorities had to put up the plaque still in place on the south wall, threatening lightning bolts and excommunication upon any parent who tried to palm their legitimate child off as a orphan.
It was fashionable for visitors to attend one of La Pietà's concerts, and leave a suitably large donation towards the good work. One was Charles de Brosses, French Magistrate and President of the Parlement de Dijon, who visited in 1739:
the Ospedali have the best music here. There are four of them, and all for illegitimate or orphaned girls whose parents cannot support them. These are brought up at the State's expense and trained exclusively in music. Indeed they sing like angels, play the violin, flute, organ, oboe, cello, bassoon... The performances are entirely their own and each concert is composed of about forty girls.
(The other Ospedali were the Mendicanti, the Incurabili and the Ospedaletto).
As their churches did double duty as concert halls, Giorgio Massari designed La Pietà in 1739 in an elegant oval shape, with acoustics as well as God in mind – note the rounded angles, the choir stalls along the back and sides, and the high vaulted ceiling. The oblong vestibule served to dampen street noise, a feature that may well have been suggested by Vivaldi himself.
Decorated in luscious cream and gold, La Pietà gives the impression of being inside a Fabergé Easter egg, with Giambattista Tiepolo's stunning Triumph of Faith on top. The church's white façade was stuck on only in 1906.
The Vivaldi Museum
In 2004 the church opened the Piccolo Museo Antonio Vivaldi (open by appointment only, admission €3) with a collection of Baroque instruments from the maestro's time and documents on the life and rules of the orphanage. For more, check out the BBC documentary called Vivaldi's Women, telling the story of Father Antonio's remarkable 34-year collaboration with his female musicians.
In the evening, the I Virtuosi Italiani ensemble frequently performs Vivaldi's music in Vivaldi's own church, with original Baroque instruments. Tickets (€25, reduced €20) are available at the church and APT tourist offices; for info, +39 041 5221120.
vaporetto: S. Zaccaria
+39 041 5222171 or +39 041 5237395