Ghetto
Still a community centre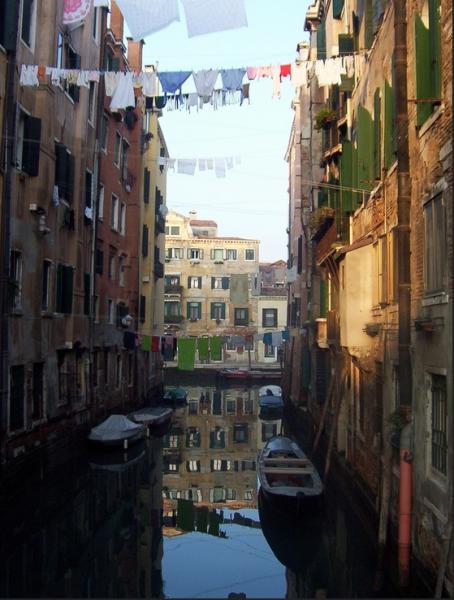 In the bad old days two massive doors on Calle del Porton ('of the big door'), just on the south side of the Ponte degli Ormesini, would seal in the residents of the world's first ghetto, where the houses loom over the water like a wall. Today the Ghetto remains the centre of the Jewish community in Venice, even if its 450 members now live all over the city: a nursing home, nursery school, library, and kosher restaurant are to be found here.
Campo Ghetto Nuovo
The campo is the evocative if melancholy and claustrophobic heart of the quarter. Compressed by water on all sides, some of the first 'tower blocks' ever built rise high here. Seven bas-reliefs by Arbit Blatas commemorate the 202 Venetian Holocaust victims. Here too you can visit the Museo Comunità Ebraica, which offers a tour of the otherwise inaccessible local synagogues.
Campo Ghetto Nuovo was used in Visconti's film Senso (1954) as the spot where the Contessa meets Lieutenant Mahler.
Ghetto Vecchio
From Campo Ghetto Nuovo, take the Ponte del Ghetto Vecchio (from the west side of the campo) and continue south straight through Campiello delle Scuole to reach the street marked simply Ghetto Vecchio. Above No.1131, an early 18th-century stone plaque warns converted Jews of punishments ranging from the lash to the gallows for returning to the Ghetto.
In 2016, a series of events are being held in Venice and the Ghetto itself to mark the 500th anniversary of its creation. The Venetian Heritage Council, with offices in Venice and New York is raising funds to restore the museum and synagogue to their former glory, and there is even talk of founding a Jewish university in Venice.
Vaporetto: Ponte Guglie/San Marcuola.
Ghetto Website; also see Kosher in Venice for listings of shops, restaurants, food stores and cooking classes in the city.