San Lazzaro degli Armeni
Venice's Armenian island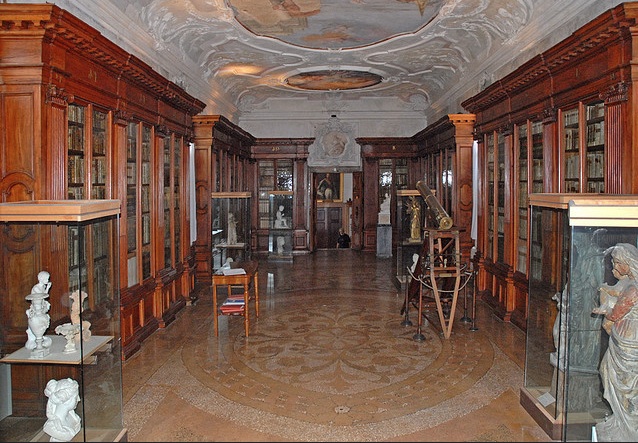 One of the smaller islands just west of the Lido, with a landmark onion-domed campanile, San Lazzaro was Venice's leper colony in the Middle Ages, and was long deserted when in 1715 it was given to the Armenian noble and monk, Manug di Pietro, after he was expelled from the Peloponnese by the Turks.
It is one of the most fascinating, under-visited sites in Venice. Armenians have lived in the city since the 13th century, and their presence is maintained by these islanders, the Mechitarist Fathers of the Armenian Catholic Church, who have made San Lazzaro one of the major centres of Armenian culture. The monks are noted linguists, and its famous polyglot press is able to print in 32 languages – one of the last presses to remain in a city once celebrated for its publishing. It was the only island monastery to survive Napoleon's conquest – thanks to an Armenian in the French bureaucracy.
The fathers will take you on a guided tour of the Monastero Mechitarista, and its amazing 150,000-volume library with a fresco by Giambattista Tiepolo. It includes over 4,000 rare Armenian manuscripts, dating back to the 5th century (the Armenians, after all, were the first nation to convert to Christianity, around the year 300).
Elsewhere are oddities such as a statue of Napoleon's son, the King of Rome, Egyptian and Indian artifacts, and a room of Byron memorabilia, from the winter Lord Byron spent visiting the fathers, as he described in a letter to Thomas Moore in December 1816:
By way of divertisement, I am studying daily, at an Armenian monastery, the Armenian language. I found that my mind wanted something craggy to break upon; and this — as the most difficult thing I could discover here for an amusement — I have chosen, to torture me into attention. It is a rich language, however, and would amply repay any one the trouble of learning it. I try, and shall go on;—but I answer for nothing, least of all for my intentions or my success.
The fathers offer inexpensive prints of Venice for sale; otherwise, they would appreciate a donation.
Hours Guided tour begins daily at 3.25pm
Adm €6; Children and students €3
vaporetto: no.20 from San Marco-San Zaccaria at 2.45pm.
+39 041 5260104