1574–1797
A Decline to Remember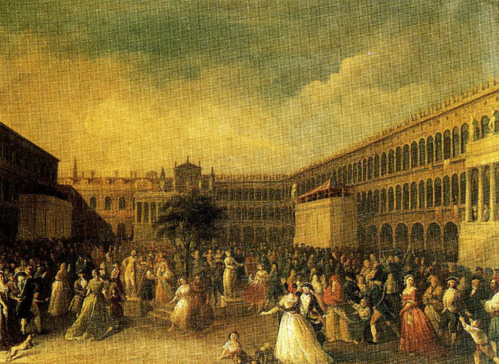 Continued from here.
In Browning's words, 'Venice spent what Venice earned'. Not only Venice, but the entire Mediterranean world was declining in the last decades of the 16th century. Trade was contracting and politics were subverted by the twin vampires of Rome and Madrid.
Venice had the resources to survive, but not enough to break free from the constraints of the new era. Her policy of neutrality and her centuries of diplomatic experience kept her afloat with little difficulty, but the grandchildren of the Venetian merchants and warriors found they had to resign themselves to a very different life: they could enjoy themselves, and weren't averse to it, but beyond that opportunities were limited.
For the next two centuries, history would be largely limited to vignettes: a fire in the Doge's Palace in 1577, occasioning Tintoretto's gigantic Paradise and the rebuilding of the Palace. The first state-run banks appeared in 1587. The wars against the Uskoks continued until diplomacy induced the Austrians in 1617 to stop supporting them.