San Lio
Canaletto's last resting place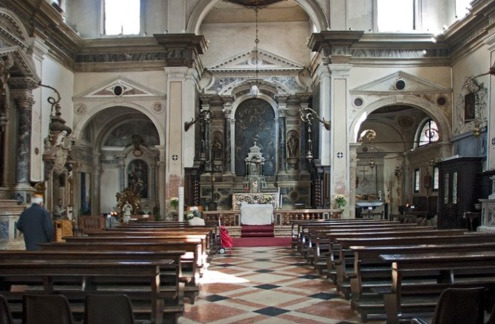 Near Santa Maria della Fava is another little neighbourhood church, San Lio; founded in the 9th-century as Santa Caterina, its dedication was changed after the canonisation of the Pope Leo IX (d. 1054) because he had taken Venice's side in a spat (atypical of any pope, actually; usually Venice and Rome were at complete loggerheads).
The church saw a famous miracle in 1474: there was a member of the Scuola di San Giovanni Evangelistra who didn't believe that the confraternity's relic was the real thing. When the reliquary was taken along to the doubter's funeral in San Lio, however, it became extremely heavy and could not be carried inside the church, which was taken as proof positive of its authenticity. The event is pictured in Giovanni Mansueti's Miracle of the Relic of the Holy Cross in Campo San Lio in the Accademia.
Stop in to see the Gussoni chapel to the right of the altar, which has some fine sculpture by Pietro and Tullio Lombardo, including a relief of the Pietà; tradition has it that Canaletto, who lived nearby, is buried here. Other works include an Apostle James by Titian, a Crucifixion by Pietro della Vecchia and on the restored ceiling, Giandomenico Tiepolo's Apotheosis of St Leo.
Although still an active church, San Lio is also used as the headquarters of the Pastorale del Turismo e Beni Culturali (Ministry of Tourism and Cultural Heritage) and welcomes visitors who just want to put their feet up in a peaceful setting.
Hours Mon-Sat 9-4.30; Mass Mon-Fri at 5pm
Adm Free
Campo San Lio
vaporetto: Rialto