Scuola Grande S. Giovanni Evangelista
One of the oldest in Venice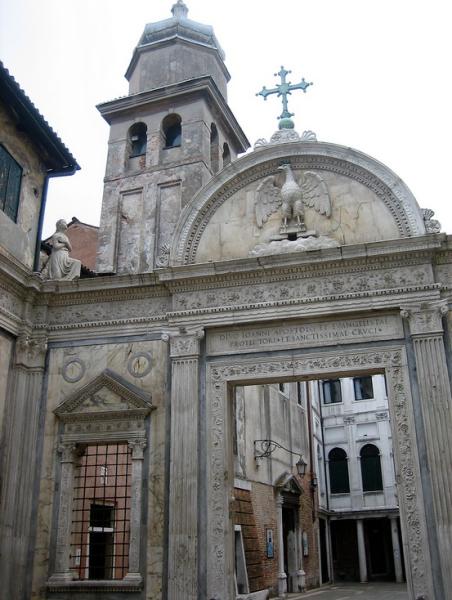 Founded in 1261, the Scuola Grande di San Giovanni Evangelista is one of the six 'grand' confraternities of Venice, originally as a brotherhood of self-flagellating penitents. The 'SZ' you'll see everywhere inside stand for San Zane, the Venetian for St John.
The Scuola has a lovely marble portal and screen or septum, delicately carved by Pietro Lombardo in 1481, with floral designs and a fierce eagle. Beyond is the scuola's little Renaissance courtyard, one of the prettiest in Venice, to which a number of artists contributed over the years.
The interior has been frequently reworked. The vast room on the ground floor, the Sala delle Colonne, was used as a meeting place for members and pilgrims.
From here, you can walk up the jewel of the Scuola, the double ramp stairway, the Scalone Monumentale (1498) by Mauro Codussi, a bravura Renaissance work, cascading in sophisticated rhythms past domes and barrel vaults. Codussi used various visual tricks to make the stairway seem larger and grander than it really is, including enlarging the steps at the top (they are 70cm wider than the steps at the bottom).
Text © Dana Facaros & Michael Pauls
Images by Jean-Pierre Dalbéra from Paris, France, TracyElaine