Marina Querini Benzon
The blonde in the gondola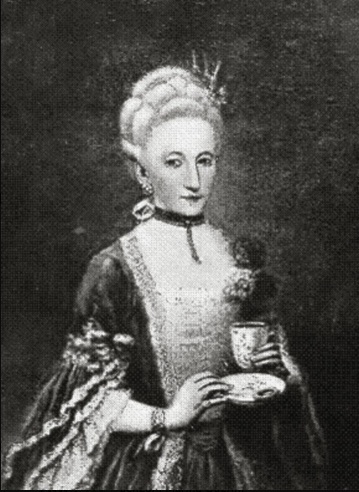 Born in Corfu, where her father Pietro Querini was governor, Countess-sum-courtesan Marina Querini Benzon (1757-1839) was a famous blonde beauty, married to Count Pietro Giovanni Benzon in 1777.
She was the inspiration for the still popular Venetian love song, La biondina in gondoleta (The Blonde in the Gondola) written for her in 1788 by her great admirer Anton Maria Lamberti, who describes his delight on a moonlit gondola ride, when the wind dishevels 'the veils over her breast' as she slept. She was painted by Longhi (only a black and white copy survives, see above). Her wit was much admired.
In 1797, she donned a Greek tunic to dance with the poet Ugo Foscolo around Napoleon's Liberty Tree in Piazza San Marco.
By 1817, the once sylph-like Countess was a tremendously fat widow, owing to an inordinate love for polenta, which she kept warm, tucked in her bodice for convenient nibbling whenever she felt peckish – hence her nickname Fumetta or 'Little Smoke'. Byron called her 'the oddest and pleasantest of elderly ladies' living in what Byron called 'the strictest adultery, with her long-term lover, Beppo Ragnone (whom she married after her husband's death).
Byron, along with Foscolo, Canova, and later Stendhal and Chateaubriand were regulars at her salon, or conversazione, in her Grand Canal palazzo. And it was here that he met his last great love, the young Countess Teresa Guiccioli.
—Listen to La Biondina in Gondoleta, sung by Giuliano Bernardi