Scalzi
Spooky church next to the train station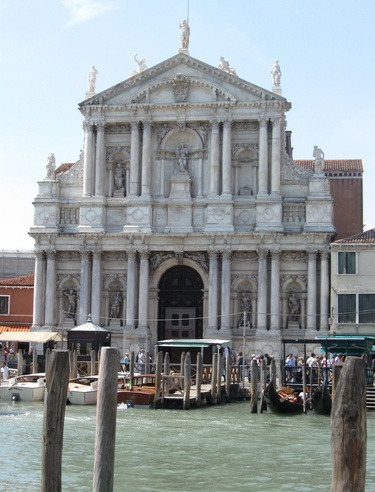 Right before the Lista di Spagna ends at the station, eternally obscured by a wall of tat-selling peddlers, this church was commissioned in the 1670s by Gerolamo Cavazza, a nouveau riche arriviste celebrating his recent admission to the Golden Book.
The Carmelite Scalzi ('barefoot', though they wore sandals) were a prestigious religious order, and although Cavazza flamboyantly financed them (74,000 ducats, he boasted), the friars could have spent it better than on the petrified operetta stuck on Giuseppe Sardi's perilous façade – the figure of Hope has already fallen off and broken into bits.
Letting Baldassare Longhena follow his fancy in the interior wasn't a good idea, either, resulting in gloomy, opulent, overpopulated Baroque encrustations from the dark side of his imagination (shadows he managed to keep out of his masterpiece, La Salute).
In 1915 an Austrian bomb addressed to the train station fell through the Scalzi's roof, turning the church's prize work, Giambattista Tiepolo's celebrated buoyant ceiling of The Miracle of the House of Loreto, into a million-piece jigsaw puzzle. The largest fragments have been preserved in the Accademia, which also has a study of the work – a Baroque version of Dorothy's twister-blown house in The Wizard of Oz. The house was the Virgin Mary's, which according to legend miraculously picked itself up and flew to Dalmatia, and later took off again to settle at Loreto, near Ancona, where you can see it today. In its place is Ettore Tito's modern and less gravity defying Council of Ephesus.
The second chapel on the right bears a stone marked: 'Manini Cineres', all that marks the passing of the last doge, the weak and melancholic Ludovico Manin (d. 1802). The chapel's ceiling, Santa Teresa in Glory, is one of Tiepolo's less exalted works.
Altogether this is the spookiest church in Venice, with an ambience that can be matched only by the major basilicas of Rome and Naples. The filthy Baroque ensemble entertains a chorus of odd women whenever the church is open, chanting prayers in loud metallic voices, often with an audience of snoring railroad workers.
Hours Mon-Sat 7.30am–12.30pm and 4–7pm Sun 7-11.30am, 4-6.45pm
Adm Free
Fondamenta degli Scalzi
vaporetto Ferrovia
+39 041 715 115