Jacopo Tintoretto
'll Furioso' of Venetian Art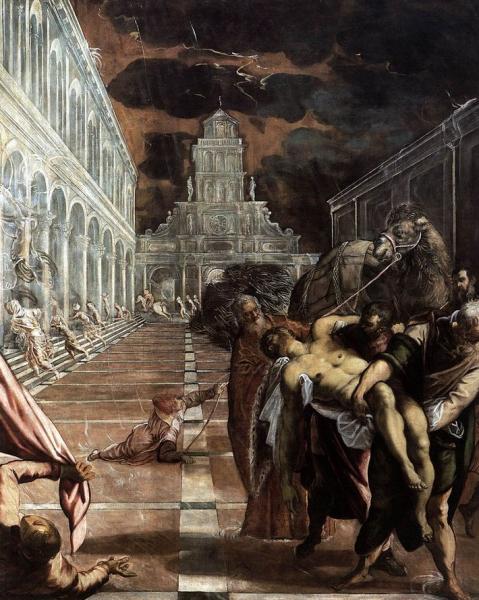 Il disegno di Michelangelo ed il colorito di Tiziano ('Michelangelo's design and Titian's colour') Tintoretto's motto, inscribed on his studio wall
Originally from Brescia in Lombardy (but then part of the Venetian Republic) Tintoretto (Jacopo Comin or Robusti, 1518–94), the eldest of 21 children, was given his name, 'little dyer', after his father's profession, but as a child he was known as 'Robusti' because of his father's robust defence as a soldier at the gates of Padua during the War of the Cambrai.
Highly ambitious and full of energy, Tintoretto went on to become one of the most prolific, original and successful artists of the High Renaissance and a precursor of Mannerism, with his use of exaggerated gestures, lighting and striking use of perspective and unusual angles. He made a close study of Michelangelo's muscular forms and drawing, and followed Titian's loose brush style with a passion that earned him the nickname 'il Furioso' from his contemporaries.
Legend has it when Jacopo was very young and showed an aptitude for drawing, he was taken to Titian, who rejected him as a pupil because his drawings were too independent and spirited. Although Tintoretto was always inspired by Titian (see his motto above) the two were never friends, and Titian's friends were said to openly disparage him; Tintoretto had enough spunk to collect and study prints and antiquities as models and teach himself.
Tintoretto's greatest talent was in his visionary, unrestrained and totally original compositions; like Titian he was an expert at modelling figures in clay or wax, which he would arrange and suspend in a box, lit by a candle. In the beginning he worked for free, to advertise his talents, and soon enough the commissions came in. He painted quickly: Sebastiano del Piombo remarked that Tintoretto could paint in two days as much as himself in two years.
Among his earliest surviving works in Venice are the Presentation of Jesus in the Temple in the Carmini and San Beneto's Annunciation and Christ with the Woman of Samaria, and paintings on the Book of Genesis, now in the Accademia.
He made his name in Venice with two major commissions: the paintings in the Madonna dell' Orto and the four striking canvases on the translation and miracles of St Mark for the Scuola di San Marco (1548) now in the Accademia.
It was around this time that Tintoretto famously began a portrait of Titian's best friend Aretino, by placing a pistol on the table next to him. Aretino apparently took the hint.
His masterpiece is the Scuola di San Rocco series, which he worked on off and on from 1565 to his death in 1588. After the great fire in the Palazzo Ducale in 1547, Tintoretto and Paolo Veronese were commissioned to redecorate the main public rooms: the Sala dell Anticollegio, the Senate and Sala di Grand Consiglio.
The culmination of his work in the Ducal Palace, was, fittingly for Il Furioso, the world's largest painting and his last masterpiece, the Paradise. Begun in 1588 and completed a few years later, with help on the details from his son Domenico, who went on to have a career as an independent artist, although one who never reached his father's heights. Tintoretto himself could create some clinkers as well as masterpieces: the Venetians liked to say he drew with three pencils: one gold, one silver and one iron.
Tintoretto died in 1594 and was buried in his parish church of the Madonna dell'Orto, next to Marietta Robusti, his favourite daughter, assistant and excellent portrait painter in her own right who had died four years earlier at the age of thirty.
Other paintings in Venice by Tintoretto are in the Accademia, San Moisè, S. Giorgio Maggiore, San Zaccaria and the Scuola Grande di San Giovanni Evangelista.