Campo dei Mori
Three 'Moors' and a camel, too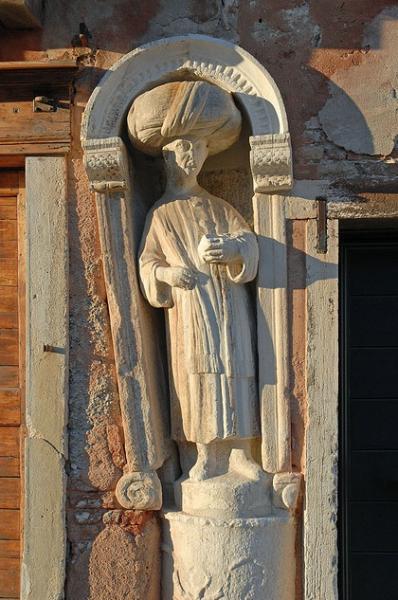 This elongated residential square earned its name for its statues of three 'Moors', popularly believed to be the Mastelli brothers, Rioba, Sandi and Afani, who lived in the 12th century in the Palazzo Mastelli, better known as Palazzo 'Camello' for its relief. The brothers may have became known as 'Moors' because of their Peloponnesian homeland (then called the Morea), or from their trade with the East.
One of the brothers, in a turban and standing on a fragment of a Roman altar, stands by himself on the Fondamenta dei Mori, at No.3399, decorating the façade of Tintoretto's house; the painter lived here from 1574 until his death in 1594. In the early years he was plagued by slanders written by Aretino, who often came to Cannaregio to visit Titian. Tintoretto took as much as he could bear before he invited the writer in for a free portrait. Aretino came eagerly enough, then sat perfectly still as the painter measured his features with a loaded pistol before sending him off. The warning was heeded, and Aretino changed the poison in his pen to honey.
A fourth 'Moor' in the corner of the square, with a metal nose, is Sior Antonio Rioba, once the source of much malicious fun; being sent to visit him was an initiation ritual for any greenhorn in Venice. He was also, like the 'talking' statue of Pasquino in Rome, made to sign any satirical verse that was likely to get the real author in trouble; denunciations could be left at his feet. (For another Venetian talking statue, see the Gobbo di Rialto).
Besides the Moors, the campo has an indignant plaque, commemorating the 14 victims of an Austrian zeppelin attack in 1917.
vaporetto Madonna dell'Orto