Adrian Willaert
Renaissance composer and founder of the Venetian School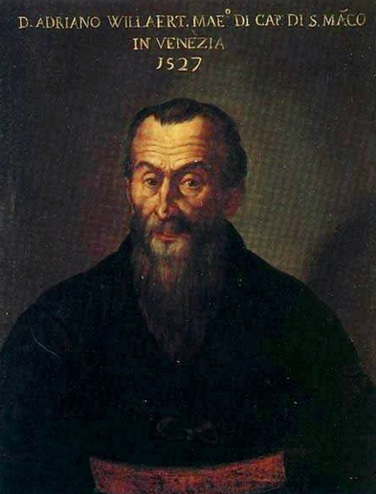 Adrian Willaert (c. 1490-1562) was born in Bruges and studied music in Paris with the chief composer to the Royal Chapel, Jean Mouton. Before long, Willaert began successfully composing on his own. He worked in Rome and Ferrara, where he became well known before being invited to Venice and appointed Maestro di Cappella at St Mark's Basilica.
This was one of the most prestigious musical appointments in Europe, and apparently Doge Andrea Gritti himself took a personal interest in bagging Willaert for the post.
St Mark's differed from other churches in having not one, but two organs and two choir lofts. The unique acoustics, and slight delay in sound between the two choirs, inspired Willaert's compositions for two choirs, notably his setting to the Psalms, the Salmi spezzati, published in 1550. It was the antiphonal polychoral (two semi-independent choirs, singing alternatively) work that launched the Venetian School of music.
Willaert left a huge, versatile and innovative collection of compositions: masses, hymns, psalms, motets, madrigals and ricercares (the orgins of later instrumental music). Thanks to his disciples, Andrea Gabrieli, Giovanni Gabrieli and Claudio Monteverdi, St Mark's and Venice became renowned for producing the most innovative music in Europe.