Carmini
or Santa Maria del Carmelo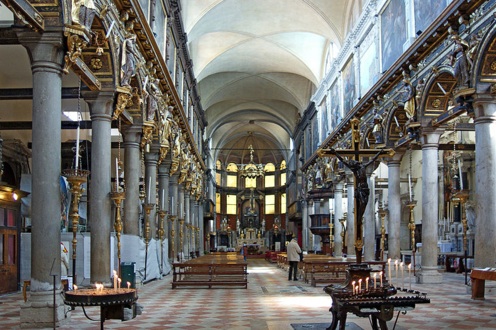 This church was founded in 1286, not long after the Carmelite Order itself appeared, and was consecrated in 1348. In the 16th century, it was was given a brick and marble Codussi-style facade by Sebastiano Mariano di Lugano. Among the statues crowning the roof are the 'founders' of the Carmelite order, Elisha and Elijah, whose deeds on Mount Carmel attracted the first Carmelite pilgrims and hermits in the late 1100s.
The church preserves its basilican interior from the 14th century, but nearly all the decoration is Baroque. At first glance gilded Aztec cigar-store Indians line the nave; on closer inspection these are painted wooden figures of kings and warriors carved in the 17th and 18th centuries, eerily illuminated by the fluorescent tapers before them.
The sculptural decoration, also of gilded wood, is of the same period, as are the paintings forming a frieze on the history of the Carmelite order. Little of it is grade-A art but the total effect has a monumental, quirky charm.
The Carmini does have one major painting: Cima da Conegliano's Nativity on the second altar on the right, set in a fine landscape bathed by golden Veneto light. On the ceiling, note Sebastiano Ricci's Glorification of the Scapular (1709).
The third chapel on the left has a bronze plaque with a relief of The Deposition, a rare work by the Sienese sculptor-architect Francesco di Giorgio Martini, with a portrait on the right of Duke Federigo of Montefeltro and his famous broken nose; the women in the scene resemble the Furies in a Greek tragedy.
Past the sacristy door hangs the Presentation of Jesus in the Temple, believed to be the earliest Tintoretto in Venice. The second altar on the left has Lorenzo Lotto's St Nicholas of Bari, with an eerie landscape beneath the saints, a work that was so cruelly satirized by a writer of the 'Sansovino-Titian-Aretino logrolling company' (as the art historian Bernard Berenson called their clique) that afterwards Lotto left Venice for good. Near the door, under a canvas by Padovanino, is a bench carved with pagan grotesques.
As you leave the Carmini, take a brief stroll down Calle della Pazienza to see the Carmini's Gothic side door (across from the Scuola dei Carmini), decorated with a collage of Byzantine odds and ends. Also take a look at the Carmini's lofty campanile. Rebuilt in 1520, it began in lean in the 1600s and was ingenuously straightened by Giuseppe Sardi, who dug out three sides of the foundations, wedged wood inside, and used acid to dissolve the wood. It was struck by lightning several times, on one occasion blasting the bronze statue of Our Lady of Mount Carmel off the top. The current model dates from 1982.
Hours Mon-Sat 2.30-5.30pm
Adm Free
Campo dei Carmini
Vaporetto: Ca' Rezzonico or San Basilio