Carlo Gozzi
The Fairy Tale Playwright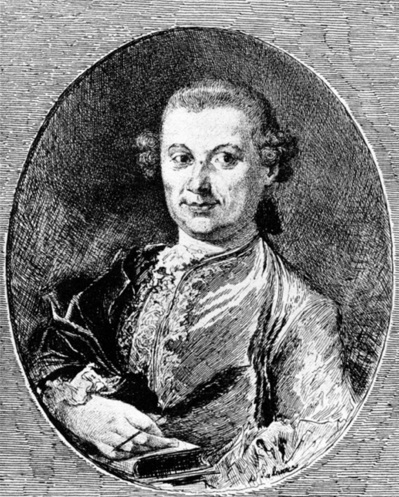 Carlo Gozzi (1720 –1806) came from an impoverished Venetian noble family, and took up writing to support himself. He was the founder of the Accademia dei Granelleschi, dedicated to maintaining the pure traditions of Italian theatre and the Commedia dell'Arte. He loved the poetic fantasy of the Commedia and the works of Venetian fairy tale writer Giovanni Francesco Straparola, and wrote dramatic fables, beginning with the Analisi riflessiva della fiaba L'amore delle tre melarance (The Love of Three Oranges), the story of a king who will die if he doesn't smile or receive three oranges—a story best known these days through Prokofiev's ballet.
First performed in 1761, the play's wild popularity so upset his rival Carlo Goldoni that it drove him out of town. Of Gozzi's later fairy tale plays, the most successful by far was Turandot, performed the following year, which Schiller translated and Goethe staged, and Puccini made into an opera. The Green Bird (1765), based on a story by Straparola, was recently staged on Broadway.
His memoirs, translated into English, are online here.