Giovanni Francesco Straparola
The Father of Fairy Tales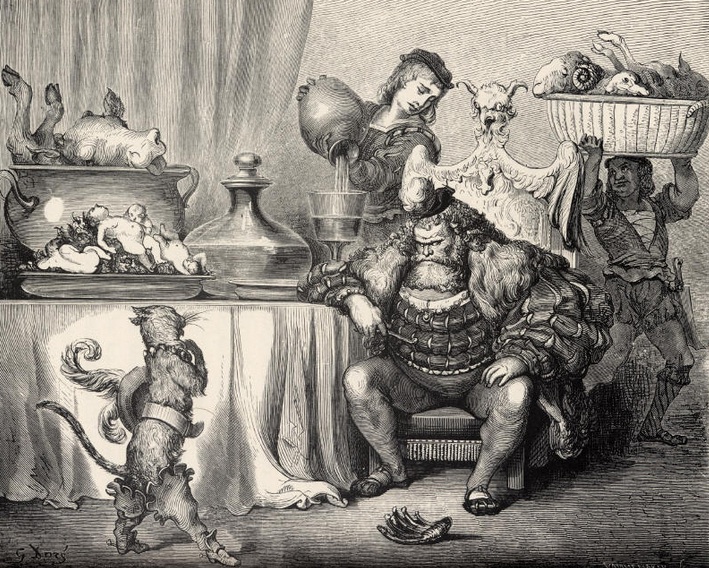 Giovanni Francesco Straparola is a mysterious fellow; biographical detail is scarce. Some even say Straparola ('Babbler') wasn't even his real name. But between 1550-53, he published Le piacevoli notti (The Pleasant Nights, often translated into English as The Facetious Nights of Straparola), a key work in the history of European fairy tales. Straparola borrows the frame for his book from Boccaccio's Decameron: a group of women (mostly) and men (among them, Pietro Bembo) attend a party over 13 nights on Murano, entertaining one another with all kinds of stories—75 all told.
Many are the first recorded versions of European fairy tales, including Costantino Fortunato, the earliest known version of Puss in Boots. His stories were the source for many of the tales retold by Charles Perrault and the Brothers Grimm, and Carlo Gozzi (including The Green Bird).
In her Fairy Godfather: Straparola, Venice and the Fairy Tale Tradition (2002), Ruth B. Bottigheimer argues against the popular belief promoted by the Brothers Grimm that all fairy tales spring up from rural storytelling over the generations, and believes Straparola himself (who, from clues in the stories, she believes was a retainer in the terra firma home of a noble merchant) invented the popular rags-to-riches-through-marriage genre of fairy tales (like Puss in Boots) to entertain his Venetian audience of literate artisans, who could fantasize about getting ahead in Venice but where it was almost impossible after 1297 and the Serrata of the Consiglio that closed ranks around the nobility.
As a footnote, when the Italian nobility did mix up the gene pool, they sometimes gave birth to geniuses. Leonardo da Vinci is the classic example, but also see Venice's own Elena Lucrezia Cornaro Piscopia.