Street Talk
How to tell a ramo from a salizzada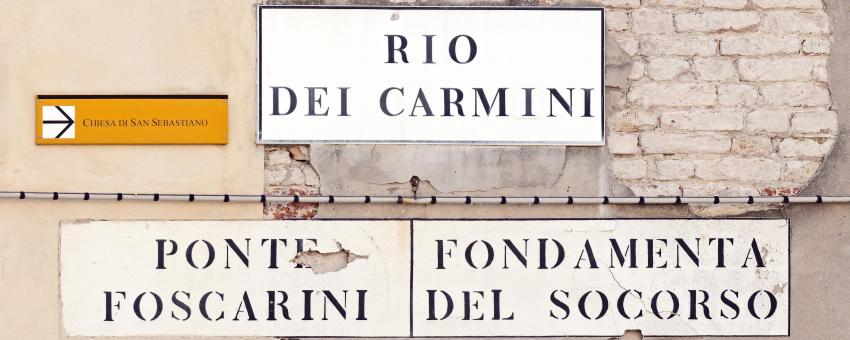 If the civic virtues of Venice had been understood and imitated, later cities would have been better planned. Lewis Mumford, The City in History
Mumford is right, although it may not be immediately apparent for a newcomer trying to get around or find an address. One interesting phenomenon, peculiar to Venice, is street numbering, introduced during the Austrian occupation in the 19th century. The system they invented has an archaic charm. The number isn't by street, but by entire sestiere. Each has a number 1, from where the numbers roughly spiral out up and down the ancient alleys, terminating with a flourish as San Marco's does, near the main post office, with a huge painted sign proclaiming to the world: 5562. THE LAST NUMBER OF THE SESTIERE SAN MARCO.
Native Venetians may instinctively know where to find the number, but also have a little book called the Indicatore Anagrafico, which matches the numbers with the street names. But even knowing the street name affords little comfort when many sestiere have several lanes with the same name, or when the names on the street signs fail to correspond with either the Indicatore or your map.
Spellings can be irregular too: the height of this orthographical madness comes in Campo San Biagio, or Blasio, or Biasio—you can take a souvenir photo of three signs on one wall, with three different spellings.
There aren't many stone plaques, at least compared to Rome, but if you look carefully, you'll find water-level markers from historic floods, a score of indignant memorials to Austrian bombs from the First World War, and few notices from the slapstick days of the 19th century warning against spitting or gambling or otherwise making a spectacle of yourself.
Before you start navigating around Venice, you'll need to get acquainted with some specifically Venetian street talk. At first you may think you're in Spain: why 'street' and 'canal' in Venetian dialect should be calle and rio is a linguistic mystery. There is, of course, only one piazza in Venice—St Mark's, along with two piazzette (adjacent to it), and one piazzale (Roma, the car park). Every other square is properly called a campo. A small one may be a campiello. Also, there are:
corte: a blind alley
fondamenta: a street that runs along a canal or the lagoon banks
piscina: an onld turning basin for boats that has been filled in to become a square (Latin for pool or reservoir)
ramo: a 'branch', a street only one block long, or the extension of another street with the same name
rio: a canal. The status of canale is reserved for the Grand Canal and a few others.
rio terra: a filled-in canal
riva or molo: quay
ruga: old word for an important street
sacca: a basin on the city's edge. Venice being man-made, these can be rectangular, like the Sacca della Misericordia. Some have been filled in to become islands in their own right, such as Sacca San Biagio.
salizzada: a paved street
sottoportego: an arcade or archway under a building
If you want to pretend you are walking in the Venice in the old days, there is one clue that will help make the place come to life: the smaller streets were generally named (in Venetian dialect) after the trade or whatever sort of enterpirse went on there, and they have conserved their names up to this day. Some of the most common are:
bareteri: capmakers
beccarie: butchers
caffetier: coffee house
calderer: coppersmith
calegheri: shoemakers (a Latin word that survived only in Venice)
carbon: coal barges (on a canal)
carrozzer: carriage-maker (amazingly, Venice supported quite a few until the 17th century)
cason: police prison
cerchieri: coopers
corrazzeri: armourers
diamanter: diamond cutters
fabbri: smiths
formagier: cheesemonger
forner: baker
frezzeria: arrow factory
fruttarol: fruiterer
luganegher: pork butcher
malvasia: seller of malvasia wine
mandoler: almond seller
marangon: ship's carpenter
margaritera: glass bead maker
medicioli: beggars
muneghe: nuns
murer: builder
piovan: parish priest
remer: oar maker
ridotto: gambling house
spezier: apothecary
squero: boat-yard
stagneri: tinsmiths
strazzarol: ragman
tentor: dyer
testari: silk weaver
veriera: glazier
For other useful words, see here.