Neighbourhoods (Sestiere)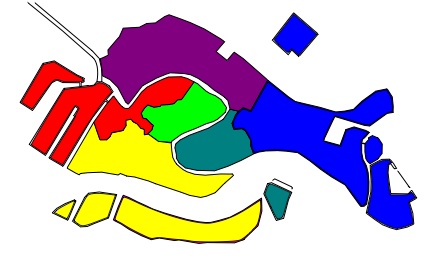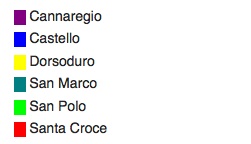 Sestiere means a sixth, Venice is divided into six parts, three on the left bank (de çitra, in dialect, or 'here') of the Grand Canal, and three on the right bank (de ultra, or 'there').
Left Bank sestiere are San Marco, which includes the island of San Giorgio Maggiore; Cannaregio, the largest of all the sestiere, and Castello, which also includes the cemetery island of San Michele.
Right Bank sestiere are Dorsoduro, which encompasses that islands of the Giudecca, Sacca Fisola and Sacca San Biagio, and San Polo and Santa Croce, which in this app are combined, as so much of Santa Croce was sacrificed to create the modern city's working end, around Piazzale Roma.
Finding an address within each sestiere is another story, thanks to the peculiarities of Venice's Street Talk numbering system.