Feast of the Twelve Marys
Love fest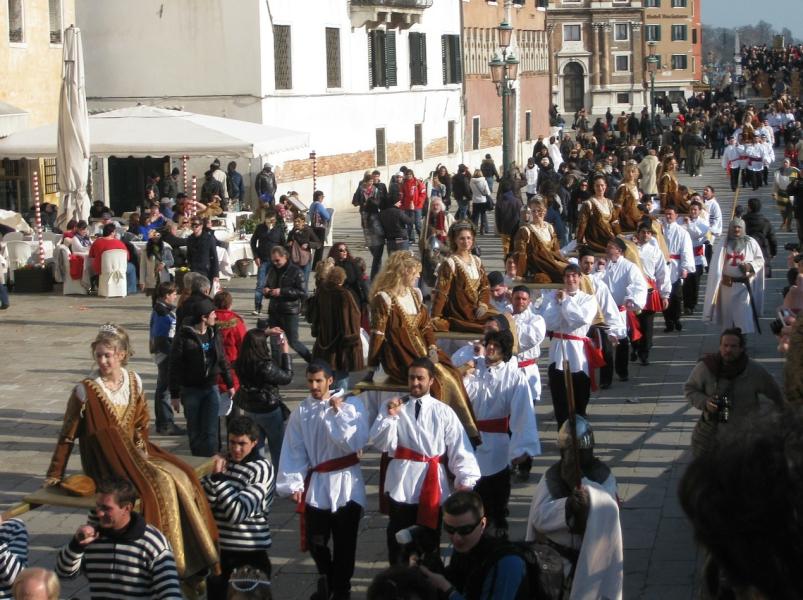 Tradition has it that in 944 a mass wedding of brides from all over the city was being held at San Pietro when a band of Dalmatian freebooters swooped down and carried off both girls and dowries. To the rescue came young men from the guild of the caselleri (who made the cases holding the dowries) who set off in pursuit and saved the day, catching the pirates before they got far.
This evolved into a major Venetian holiday known as the Feast of the Twelve Marys that lasted until the fall of the Republic, celebrated with a wedding of two couples from each sestiere at San Pietro; eight days of parties followed, and ended at Candlemas with the doge's visit to Santa Maria Formosa (the parish church of the caselleri) where he was ceremoniously presented with a straw hat and a glass of wine – in 944, Doge Pietro Candiano III had hesitated to make the journey for fear of rain and thirst.
Today it takes place, with beautiful Renaissance costumes, in St Mark's Square on Carnival Saturday. One 'Mary' is crowned the most beautiful, and the following year takes part in the Flight of the Angel from St Mark's Campanile.