Sant' Anna
Home of Venice's angry nun, Elena Arcangela Tarabotti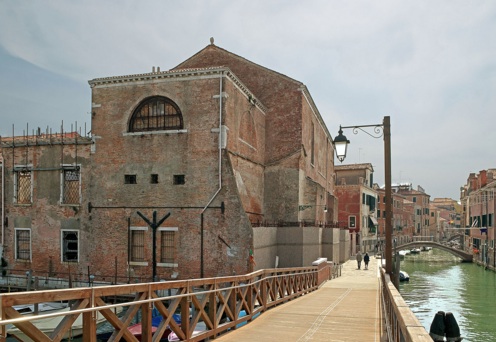 On the edge of Venice, on the way to San Pietro di Castello, the little stripped-bare red church and Benedictine convent of Sant'Anna is easy to miss. It was founded in 1242, rebuilt in 1634, and suppressed by the French in 1807.
While it was still a going concern, this was one of 50 convents in Venice, back in the time when most were full of daughters of the nobility for economic reasons; many families could only afford a dowry for one or maybe two of their girls, and were unable to countenance a girl marrying below her station. Even then the marriage pool was limited, as families often only wanted one son to marry, to inherit and carry on the line.
As obscure and forgotten as Sant'Anna seems, it had more than its share of famous nuns, including two daughters of Tintoretto who spent many of their years embroidering an altar cloth representing their late father's masterpiece, the Crucifixion in the Scuola di San Rocco.
But Sant'Anna's most famous (and angriest) nun was the writer Elena Cassandra Tarabotti.
Hours Never
Fondamenta Sant'Anna
vaporetto Giardini