Figueras: Teatro-Museo Dalí
Surreal fun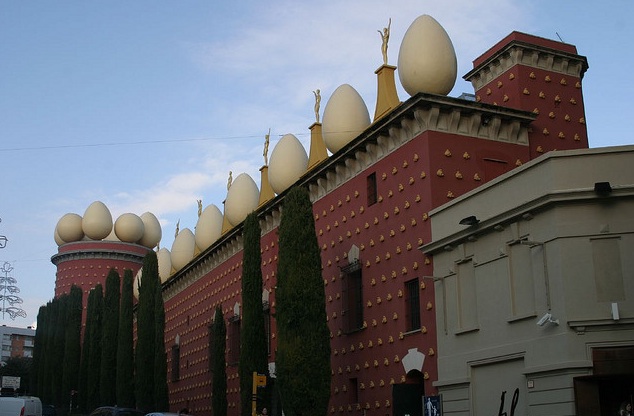 Take a high speed RENFE train from Barcelona Sants to Figueres; the journey takes 1 hour and 16 minutes. From the station it's a 12 minute walk to the Teatro-Museo.
Son of a dignified lawyer and notary, Salvador Dalí was born in Figueres in 1904 (C/ Monturiol 10, to be precise) and like Picasso was a prodigiously gifted child. Early on, his impeccable technique and ability to paint in any style he chose, along with his imagery based on 'critical paranoia' made him one of the best known Surrealists. He never disguised his love for fortune and fame, even after André Breton, the founding father of the Surrealism movement, sniffed that his name was merely an anagram of 'Avida Dollars'.
Dalí may have seemed half-mad to many, and managed to offend just about everyone at some point in his life, but he wasn't stupid: all of his flagrant self promotion and money grabbing (which almost seems amateurish by today's Damien Hirst standards) did allow Dalí to do exactly as he pleased.
This included spending his last years converting the municipal theatre of Figueres, which had been badly damaged in the Civil War, into his most popular work, the Theatre Museum (1974) which he promptly declared was the 'spiritual centre of Europe.'
The Fundación Dalí modestly notes that the museum is 'the largest surrealistic object in the world'. Its tower, the Torre Galatea (where Dalí spent his last years), is neatly adorned with ceramic turds, reminiscent of tidy piles left behind by caganers. The main entrance is crowned by figures with loaves of bread on their heads.
Inside, expect the unexpected: Dalí's 1948 Cadillac sprinkler, his ceiling fresco of himself and Gala rocketing skywards, and his wonderful Face of Mae West that can be Used as an Apartment. The museum also contains some of his best known paintings, and works by other artists that he collected over the years. And when he died in 1989, he was embalmed to stay intact for 200 years and buried inside the museum. Or as he once said: 'The only difference between me and the surrealists is that I am a surrealist.'
Dalí also dabbled in jewellery, and admission to the theatre museums also includes the adjacent Dalí Jewels, home to 37 intricate works in gold and precious stones as well as his sketches for others, made over a 30 year period. Allow three hours to see it all.
Hours Nov-Feb Tues-Sun 10.30am-6pm; Mar-June & Oct Tues-Sun 9.30am-6pm; July-Sept open daily 9am-8pm. Last adm 45 mins before closing
Adm €12, €9 students and pensioners; children under 8 free
+34 972 67 75 00