Hospital Sant Pau Recinte Modernista
The most beautiful hospital in the galaxy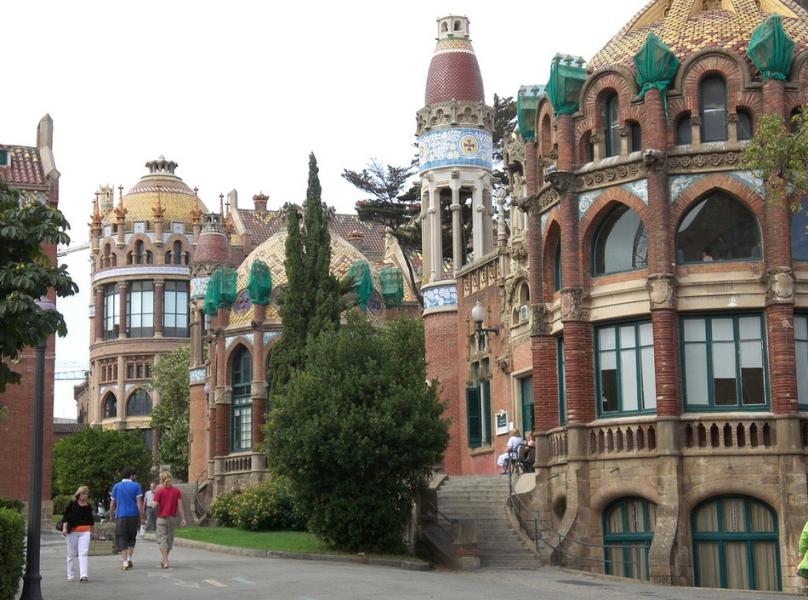 Avinguda Gaudí, lined with cafés, and streetlamps by Pere Falqués, leads from the Sagrada Família to a neighbourhood known as Camp de l'Arpa, or 'Field of the Dolmen', recalling a long-lost megalith. At the end stands another, completed and almost as gargantuan, Modernista work: Lluís Domènech i Montaner's Hospital de la Santa Creu i Sant Pau (1902–30), covering nine whole blocks of the Eixample.
It has been placed on UNESCO's list of World Heritage sites – and as hospitals go, it was certainly a one-off. The genesis for this building came from banker Pau Gil i Serra, who left four million pesetas for a hospital dedicated to his patron Saint Paul. The design competition was won by Domènech i Estapà – but the doctors on the board of trustees vetoed his concept because of hygiene considerations, and in 1901 Domènech i Montaner landed the job.
Disliking the labyrinthine institutional atmosphere of most hospitals, Domènech believed that beautiful surroundings were therapeutic. He conceived the hospital as a garden city of 26 pavilions on a human scale, connected by underground service tunnels, all built along a diagonal axis. The project was only a quarter built in 1911 when the money dried up, and it was decided to merge with the medieval Hospital de la Santa Creu, which released the funds to finish the project. Domènech increasingly worked with his son, who took over when his father died in 1923, and finished in 1930.
Since becoming a World Heritage Site, several things have happened: pavilions that have fallen into decay are undergone restoration, and hospital facilities have been relocated to a new location, and it's now the Sant Pau Recinte Moderniste Knowledge Centre. Guided and self guided tours have been set up, although the route will depend on what is accessible at any given time. If you can, go at twilight, when the grounds turn into an alternative universe, each brick pavilion different, topped with fantastically tiled roofs and encrusted with mosaics, lavishly decorated with sculptures by Eusebi Arnau and Pau Gargallo and their workshops. In the windows, rich stained glass and elaborately wrought lamps cast strange shadows.
The large administration building (1910) at the top of Avinguda Gaudí has the most ornate interior; if you can, go up the sweeping stair for the lovely view.
C/ Sant Antoni Maria Claret 167
Hours Book visits online
Adm €8, €5.60 ages 16-19 and 65 and over; under 16 free
metro: Hospital de Sant Pau
+34 93 553 78 01