MNAC Gothic Collection
Barcelona's Golden Age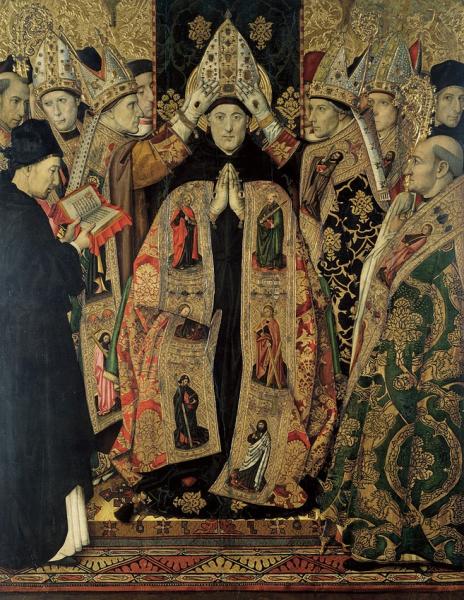 This is the Gothic section of the Museu Nacional d'Art de Catalunya. Art in these galleries evokes a new age, a highly decorative, courtly style of chivalry, knights, ladies and dragons. Unlike the museum's Romanesque rooms, the art here is mostly urban, much it commissioned during Barcelona's heyday.
Among the prizes are the 13th-century murals from the Palau Caldes (which now houses the Museu Picasso), with their curious Arabic motifs, illustrating Jaume I's Siege of Mallorca.
While Romanesque Virgins have the fixed stare of primitive idols, their gracious Gothic counterparts, whether in wood, stone, ivory and alabaster, smile and relax. Among the are best are those by Jaume Cascalls (active 1345–79), who also sculpted the delicately expressive head of the Dead Christ in alabaster.
One room has 14th-century golden International GothicFlorentine and Sienese paintings that came to Catalonia by way of the Papal court in Avignon, which exerted a powerful influence on brothers Pere and Jaume Serra, two of the leading artists of the day. The anonymous Portraits of the Kings of Aragón (1425) are typical of this new chivalric style, as is Joan Mates' St Sebastian (a rare depiction of the saint as a knight with a beard) and Lluís Borrassà's Retable de Gaurdiola (1404).
Joan Antigó was a master of meltingly tender expressions, as in his Annunciating Angel, while the Mestre d'Ail's SS Catherine and Barbara shows Catherine stepping on the king as if he were a worm. Jaume Ferrer II's coolly intellectual St Jerome sits pen in one hand, church in the other, while his lion like a puppy begs for scraps at table.
The superb Virgin of the Councillors (1445) is the only known painting by Valencian Lluís Dalmau, who went to Bruges and was inspired by Van Eyck; the five pious city councillors who paid for the painting are realistically depicted, keeping company with SS Eulàlia and Andrew and a choir of angels in an elaborate but naturalistic setting.
Although Catalonia's International Gothic master Bernat Martorell is represented only by a Retable de St Vincenç, his great follower Jaume Huguet nearly fills up a big room on his own with two series of paintings: the Retable de Santa Maria del Pi and the Consecration of St Augustine: in one painting Augustine literally bowls over a heretic with his talk. Another series by Huguet, on the Life of St Vincent, was removed from Sant Vicenç in Sarrià and shows an exorcism in front of Vincent's tomb. The central panel of the triptych of a very young and serious-looking St George and the Princess.
Sumptuous elegance loses out by the mid-15th century to Flemish realism, as in the brutality of the Beheading of St Cugat by Anye Bru, a painter who spent much of his career in Catalonia, and in Bartolomé Bermejo's remarkable Resurrection from Limbo, in which a nude Christ wrapped in clingfilm twists before a brooding background and Satan sulks peevishly in the corner. The Mestre de la Seu d'Urgell offers a pretty blue landscape from an organ cabinet, while Roderic d'Osono's St Peter Enthroned perfectly captures the saint's peasant stubbornness. Then there's the late 15th-century altarpiece by the Mestre de la Porcinuncula with a delicate Virgin, angels and St Francis offering Jesus a dish of apples.