Gràcia Walk
A stroll through Bohemia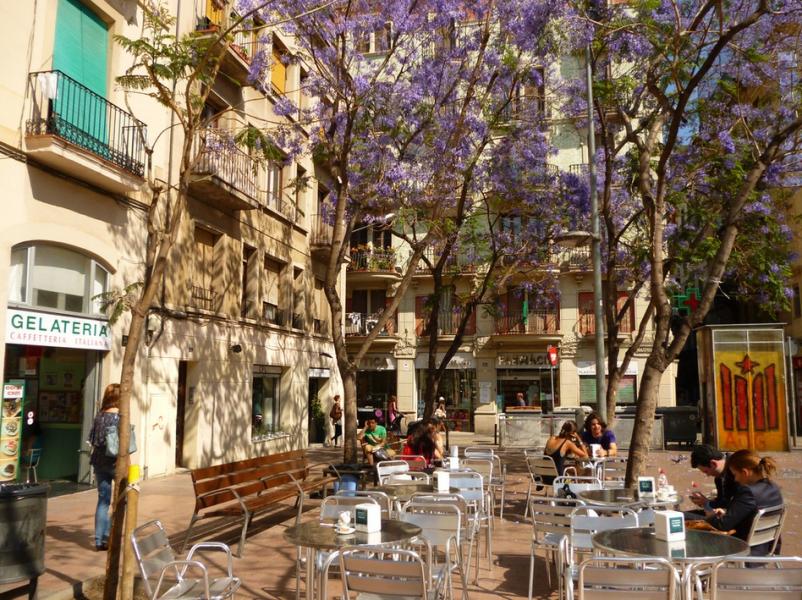 The Gràcia neighbourhood may not be packed with famous sights, but it's an essential part of Barcelona—full of character and life, a people's quarter famous for its festivals. It's always been a place apart, radical in its politics and in its architecture.
Start on Carrer Gran de Gràcia, the continuation of the Passeig de Gràcia, with the Casa Cama at No. 15, with its beautiful wrought-iron and leaded tribuna and vestibule, designed in 1905 by Francesc Berenguer Mestres.
A right turn on to Carrer de Goya will take you to the spiritual heart of Gràcia, Plaça Rius i Taulet, named after Barcelona's go-getting mayor of 1888 and dominated by the 125ft Torre del Rellotge, adorned with symbols of the zodiac. Designed by Antoni Rovira i Trias in 1864, it was almost destroyed six years later when it rang the alarm after military recruits revolted against conscription and the besieging Spanish army shot out one of its bells. The tower has been a symbol of liberty ever since, and gave its name to a famous progressive Catalan weekly, La Campana de Gràcia. The square is flanked by Gràcia's town hall, embellished with florid lamps and the town's coat of arms, built in 1905 by Francesc Berenguer.
Carry on along Carrer del Diluvi to Carrer de Siracusa and the Plaça del Poble Romaní, dedicated to Romany language and culture, in the heart of Gràcia's long-established gypsy community (whose musicians created the city's great contribution to popular music, the rumba de Barcelona). At the end of Carrer de Siracusa is Plaça John Lennon, a square built in 1993 with a record-shaped plaque inscribed 'Give peace a chance'.
Just north, turn left along the Travessera de Gràcia, turning left on Carrer del Canó for the Plaça del Sol, the centre of Gràcia's nightlife and a favourite spot for the neighbourhood dogs, despite being rather soullessly revamped in 1987 for an underground car park. Filled with lively bars, restaurants and cafés, chairs and tables spill into the square on warm summer nights; the sculpture with the sun dial and Zodiac is Astrolabi by Joaquim Camps.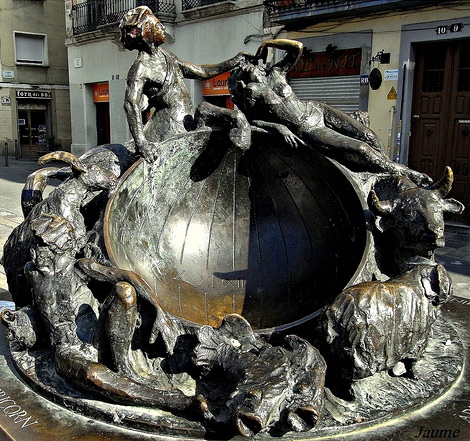 From here, Carrer de Maspons leads shortly to the Plaça De La Revolució de Setembre de 1868 with a playground and the word 'Revolution' spelled all across the pavement, celebrating the declaration of the first Spanish Republic.
From here, take Carrer Verdi to Carrer de l'Or, where the handsome Casa Rubina at No. 44 is one of Berenguer's finest buildings, embellished with curving, whimsical, iron balconies, shimmering mosaics and stark brickwork.
There are two more little squares along Carrer de l'Or. The old-fashioned Plaça de la Virreina, with its popular bar and Sunday morning flea market, was built at the end of the 19th century on land donated by the wealthy widow of the Viceroy of Peru. Its serene parish church of St Joan, which looks as though nothing has ever disturbed it, was severely damaged during the Setmana Trágica of 1909 and was restored by Francesc Berenguer. Pop in to see the altar. The second square, Plaça del Diamant with its bizarre statue, representing one of the characters in a novel by Mercè Rodoreda called La Plaça del Diamant.
From here, Carrer d'Astúries leads to the Fontana Metro station, where you can pick up the Rambla del Prat, Gràcia's showcase for Modernista architecture; some buildings have been renovated, others not, but many retain their fanciful façades, painted ceilings, wood-panelled staircases and elaborate ironwork. At No.18, four masks gaze out from the old Bosque cinema, including portraits of a youthful Picasso and the sculptor Pau Gargallo, who added them when the old Teatre del Bosc was renovated in 1917.
Gaudí's first house, Casa Vicens, is a couple of blocks north of the Rambla del Prat, while to the south Carrer de Berga leads into the oldest part of Gràcia with its landmark, the lively little iron Mercat de la Llibertat (1893) at the centre. Originally designed as an open-air market, it was capped with a Modernista wrought-iron roof in 1893 by the tireless Berenguer, and adorned with the town coat of arms.