Antic Hospital de la Santa Creu
The National Library of Catalonia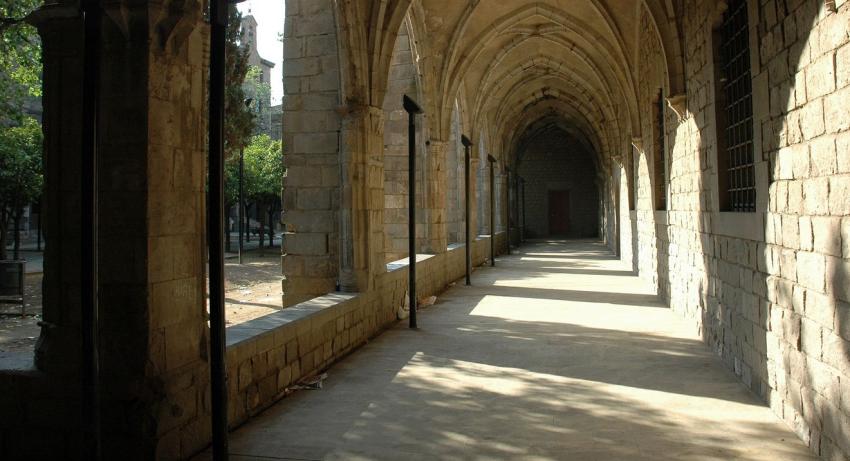 Santa Creu is one of the oldest hospitals in the world, founded in 1024 and rebuilt here in 1401, with the intention of concentrating all the sick of Barcelona in one place. In the 16th century it had 500 beds; in the 17th century there were 5,000. Relocated in 1926 to Domènech i Montaner's Modernista masterpiece Hospital Sant Pau near the Sagrada Família (one of the last patients to die here before the final move was Gaudí), the hospital's long vaulted halls now shelter books instead of patients: the two huge Gothic arches on either side of the courtyard are the entrance to the Biblioteca de Catalunya, Barcelona's largest library, with 1.5 million volumes.
The former Casa de Convalecencia was added in the 1680s as a place where patients could recuperate, and is now the Institute of Catalan Studies. The vestibule (which you can visit) is richly adorned with magnificent azulejos (1682) by Llorenç Passoles, based on Rubens' Conversion of St Paul; others can be seen on the stair leading to the handsome Gothic chapel. This now functions as a gallery, La Capella, with exhibitions of young artists from Barcelona and abroad.
Across the square is the neoclassical surgery college, now the Real Academia de Cirugía y Medicina, commissioned by the progressive King Charles III and designed by his favourite architect Ventura Rodríguez in 1764. It has a plush elliptical anatomical amphitheatre (now a ceremonial hall), retaining the original marble dissection table that revolves so students could all have a good peek at the guts.
The Gothic cloister with its orange trees has some lively carvings to look at if you don't mind the smell of urine. Finally, in the Jardins Dr Fleming, you can pay your respects to the inventor of penicillin, locally regarded as the greatest Scot who ever lived.
The gardens face C/ del Carme, one of the most piquantly authentic streets in the Raval; the Llenceria El Indio at No. 24 is a lovely Modernista textile shop.
C/Hospital 56
metro: Liceu
+34 93 270 23 00