San Giacomo Maggiore
Parish Church of the Bentivoglio Tyrants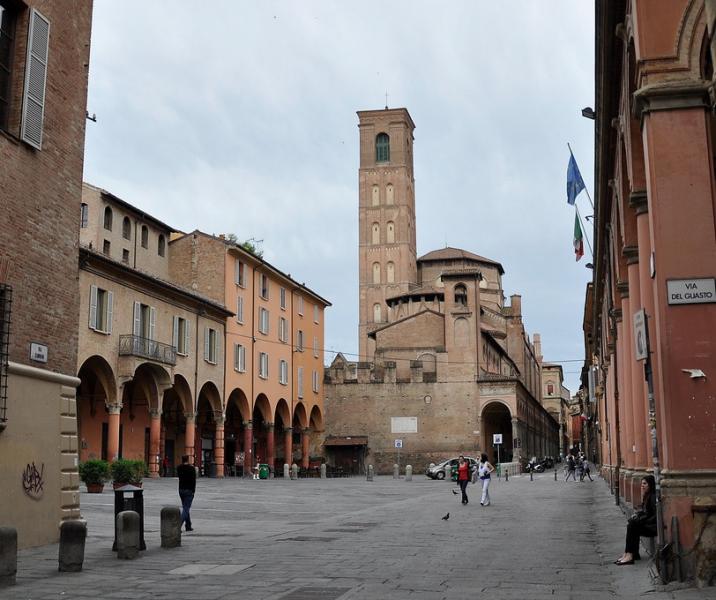 Begun in 1267 by an order of Augustinian hermits and completed in 1344, Romanesque San Giacomo Maggiore is hugged by a graceful portico, arguably the most beautiful in Bologna, with Corinthian columns and a terracotta frieze. It was paid for by Bologna's godfather, Giovanni II Bentivoglio. In 1802, after the Augustinians were ejected by Napoleon, part of their monastery was given over to the Conservatorio Giovanni Battista Martini, where Rossini once presided as musical director. The adjacent Oratory of Santa Cecilia, also built by the Augustinians and covered with Renaissance frescoes, is now a concert hall.
San Giacomo was the parish church of the Bentivogli, who built their family chapel, the Cappella Bentivoglio in the 1460s, then filled it with some of Bologna's finest Renaissance art. Giovanni II hired Lorenzo Costa to paint the frescoes—the Triumph of Death, the Apocalypse, and a Madonna Enthroned—in the midst of Giovanni II and his Family, a fresco commissioned in thanksgiving for the big boss's escape from hired assassins. Even with the usual artistic flattery, Giovanni still comes off looking the cultured Renaissance thug.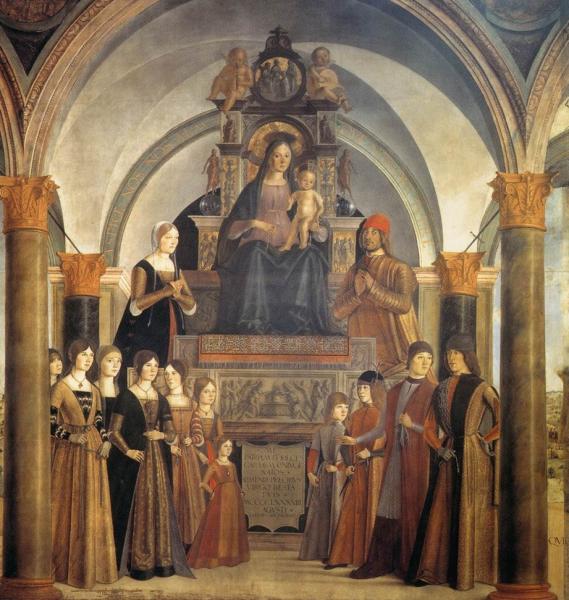 The altarpiece in the chapel is by Francesco Francia while the high-mounted tomb of Anton Galeazzo Bentivoglio (1435), opposite the chapel, is by Jacopo della Quercia. In the other chapels of the ambulatory you can see a polyptych by Paolo Veneziano and an altarpiece of the Crucifixion by Simone de'Crocefissi.
San Giacomo continued to accumulate notable works after the Bentivoglio were gone. On the right side of the nave is the Cappella Poggi, built for the Bologna-born Cardinal Giovanni Poggi (d. 1556), who is buried here. Poggi had met his fellow Bolognese Pellegrino Tibaldi in Rome, and sent him home to build and decorate this chapel, a work considered his masterpiece. Tibaldi frescoed the walls with St John preaching in the Wilderness, and the Division of the Elect from the Damned and two portraits of the cardinal, one in his role as Papal Nuncio to Spain.
In the tenth chapel on the right is a San Rocco by Ludovico Carracci, and in the next, the Holy Family with Saint John and Archangel Michael by Denys Calvaert.
Appropriately enough for a church surrounded by music, San Giacomo's 55m campanile, built in 1471, has the most musical bells in Bologna.
Piazza Rossini (Via Zamboni)
Hours Mon-Fri 7.30am-12.30pm and 3.30-6.30 pm; Sat, Sun & hols 8.30am-12.30pm and 3.30-6.30pm. The Cappella Bentivoglia is open Sat only from 9.30am-12.30pm, when volunteers of the Touring Club Italiano offer tours.
Adm Free
+39 051 225970