Oratorio Santa Cecilia
Bologna's 'Sistine Chapel'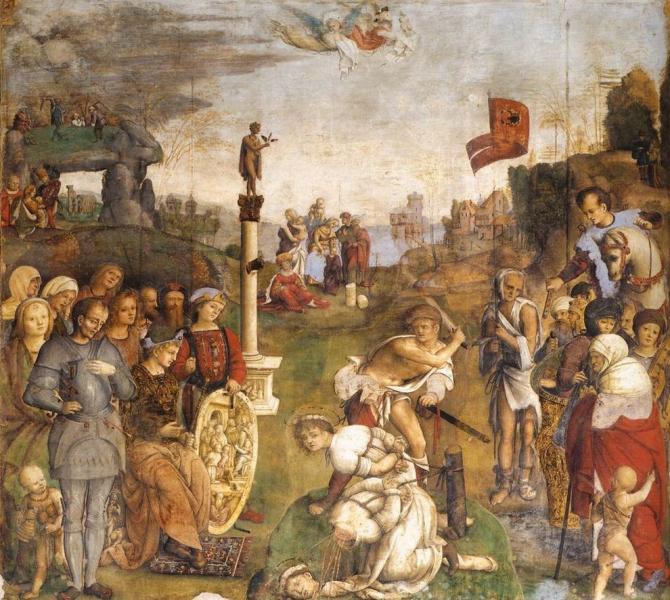 In 1504, Giovanni Bentivoglio commissioned the decoration of this oratory from the same masters who frescoed his chapel in the nearby the church of San Giacomo Maggiore: Lorenzo Costa, Il Francia and Amico Aspertini, along with some of their students and helpers.
They gave him his money's worth with their frescoes on the Lives of SS. Valeriano and Cecilia, all recently restored by Genus Bononiae.
The story is rather obscure, so here it is scene by scene, and the artist(s) who painted them:
Panel 1. Marriage of Cecilia and Valerian (Francia). Cecilia was a noble Christian convert forced by her parents to marry the pagan Valerian. During her wedding, her story goes that she 'sang in her heart to the Lord' that Valerian would become a Christian and respect her vows of virginity.
Panel 2. Valerian converted by Pope Urban (Costa)
Panel 3. Baptism of Valerian by Pope Urban (attributed to the otherwise little-known Giovanni Maria Chiodarolo and Cesare Tamaroccio)
Panel 4. SS. Cecilia and Valerian crowned by an angel (attributed to Costa and Francia's students, Bagnacavallo and Biagio Pupini). Celia had told Valerian on their wedding night that an angel was watching over her, who would punish him if he tried to consummate the marriage, but if he let her remain a virgin, the angel would love him. Valerian asked to see the angel, and Cecilia told him to go the third milestone of the Via Appia, where the Pope would baptise him.
Panel 5. Decapitation of Valerianus and his brother Tiburzio (Aspertini)
Panel 6. Burial of the Martyrs (Aspertini)
Panel 7. Trial of St Cecilia (Bagnacavallo e Biagio Pupini)
Panel 8. Decapitation of St Cecilia (Giovanni Maria Chiodarolo and Cesare Tamaroccio)
Panel 9. St Cecilia donates all her goods to the poor (Costa). The story goes that although she was struck three times by the sword, she survived for three days, enough time to distribute her goods and have the pope convert her house into a church.
Panel 10. Burial of St Cecilia (Francia)
St Cecilia, thanks to the song in her heart, is the patroness of musicians, so appropriately enough the oratorio is used for concerts, notably during the March-June San Giacomo Festival.
Via Zamboni 15
Hours Daily June-Sept 10am–1pm and 3–7pm, Oct-May 10am–1pm and 2–6pm.
+39 051 225970