Giacomo Barozzi da Vignola
Prince of Renaissance Architecture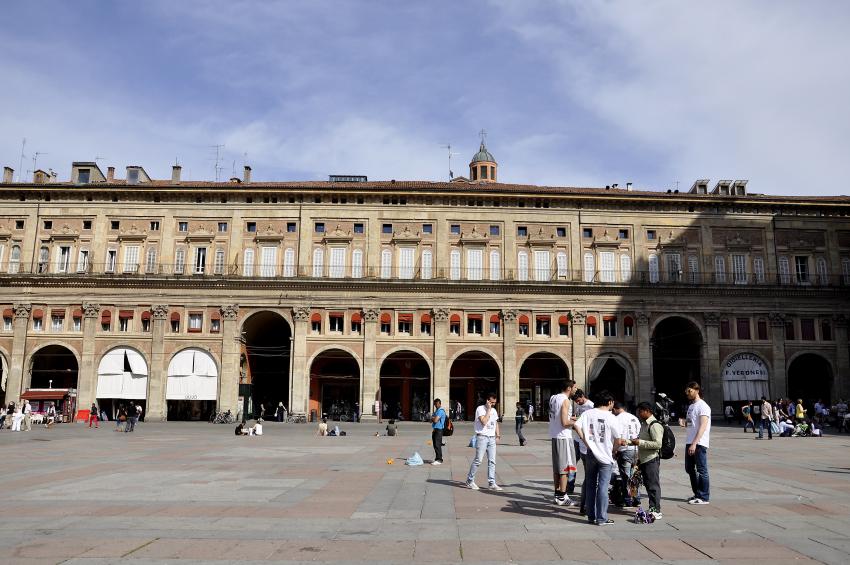 One of the greatest and most innovative architects of the Renaissance, Giacomo Barozzi da Vignola (1507–73) represents the point where the august style of the High Renaissance tips over into Mannerism. He came from the small town of Vignola outside Modena (his name is usually just shortened to 'Vignola'), and in Rome he became a favourite of the powerful Farnese family. He was one of the Italian architects and artists working for François I at Fontainebleau, along with Sebastiano Serlio from Bologna; together they designed one of Bologna's most striking residences, the Palazzo Bocchi.
Afterwards Vignola returned triumphantly to Rome, where he built the splendid Villa Farnese at Caprarola, Villa Lante at Bagnaia and the Villa Giulia, and the churches of the Gesù and Sant'Andrea in Via Flaminia in Rome; he took over Michelangelo's work on St Peter's, and was buried in the Pantheon.
Vignola was largely self-taught, from reading Serlio's Seven Books of Architecture. And like Serlio, Vignola helped to define the classical canon with books of his own, Le Regola delli cinque ordini d'architettura (Canon of the Five Orders of Architecture, 1562), which was so clearly written that it became the best read architectural treatise of all time, and the Due regole della prospettiva pratica (Two rules of practical perspective) published in Bologna after his death in 1583.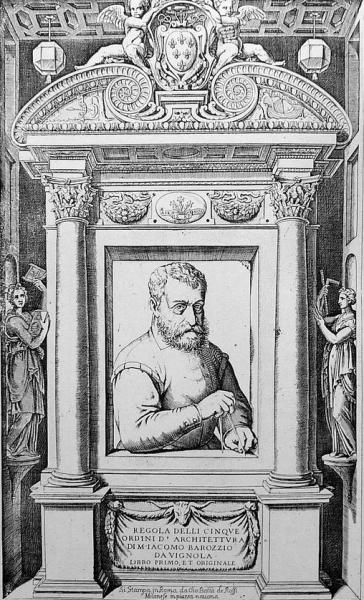 Vignola didn't leave much in his native Emilia, where his most important building, Piacenza's Farnese Palace, was never finished. Besides the Palazzo Bocchi, he did, however, give Bologna one of its finest buildings, the Palazzo dei Banchi and he tried unsuccessfully to design a facade for San Petronio (although he did contribute the ciborium over the basilica's high altar).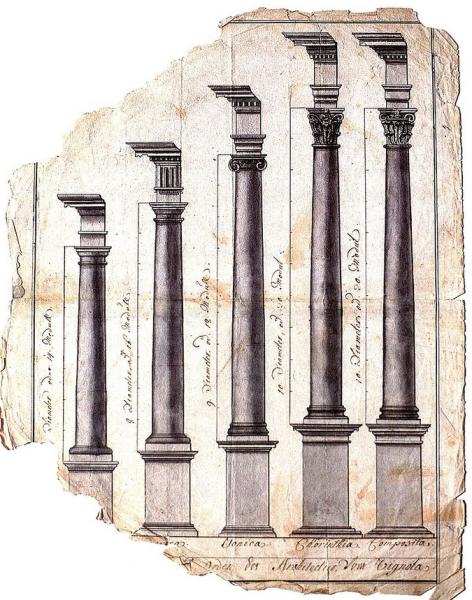 From Vignola's 'Five Orders of Architecture'. To Renaissance Italy, there were not just three Orders of classical architecture, but five. From left to right: the 'Tuscan' (an invention of Serlio, or perhaps Fra Giocondo), the Doric, Ionic and Corinthian, and finally the Composite, a mixture of the Corinthian and Ionic.