Palazzo Fava
Now the Palazzo delle Esposizioni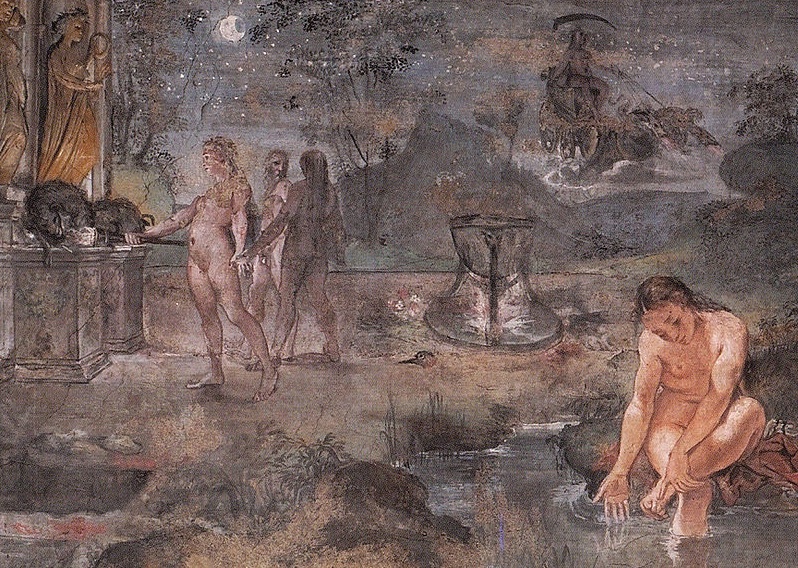 In l583, Filippo Fava, scion of one of Bologna's most prominent families, was visiting his tailor, who had heard that he was seeking artists to fresco his brand new palace. The tailor recommended his sons, who had just returned from studying in other parts of Italy and had made great progress according to their slightly older cousin, and would work more for honour than a fee. Signor Fava decided to let them have a go painting a series of mythological scenes on the upper walls.
The brothers, of course, were the Carracci, Annibale and Agostino and cousin Ludovico who worked together, sharing ideas and painting side by side on the Story of Europa (1583–84), the Story of Jason (1583-84, with a striking scene of Medea, purifying herself by the light of the moon, which the critic Andrea Emiliani called the 'first truly modern female nude in Italian art'), and the Story of Aeneas (1586), which was partly frescoed by Bartolomeo Cesi.
Although the Carracci themselves always said they did it all together, scholars ever since have tried to pick out which Carracci did what: Agostino gets credit for the idea of adding the figures of the relevant gods in between the scenes, an idea more fully developed in the trio's later fresco series at the Palazzo Magnani. Annibale did much of the actual drawing and colouring, and Ludovico came up with the ideas and compositions.
Now part of the Genus Bononiae museum circuit, the palace hosts frequent art exhibitions; the adjacent palazzo, also built by the Fava clan, houses the Museo Civico Medievale.
Via Manzoni 2
Hours Tues-Sun 10am-7pm
Adm €6; under 12 free. More during exhibitions (check the website).
+39 051 19936305