Corso Canal Grande (Modena)
Modena's 'Noble Street'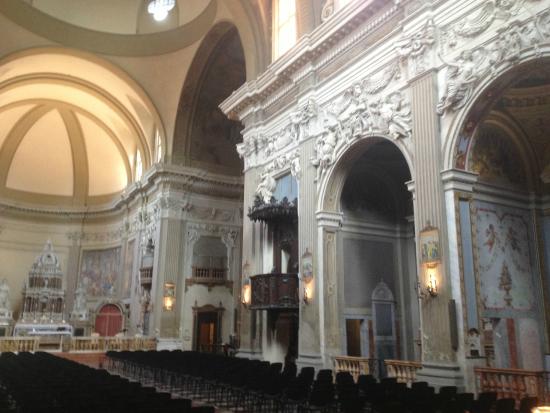 Corso Canal Grande was the posh address of Baroque Modena. It's a rather narrow street, built along the path of the ancient Roman walls; you'll wonder how they found room for a canal in the middle of it. It starts at the Giardini Ducale, next to the Ducal Palace, and passes first the long, 18th-century Scuderie Ducale, the arsenal and stables of the Este, and now a barracks of the Military Academy.
The palaces that follow as you continue southwards are architecturally rather modest. One of the most impressive is the Palazzo Santa Margherita, now the home of the Museo della Figurina and the Galleria Civica of modern art.
Like the dukes themselves, the great ones who buzzed around their court were often strapped for cash to keep up with the Baroque Joneses; in places you can see where the plaster 'stonework' has chipped away, revealing the bricks beneath.
Further down, on the left, the big, squat Corte di Assise—the provincial courthouse—occupies a 17th-century Theatine monastery built by the great Modena-born Guarino Guarini, who was a Theatine priest himself. Guarini went on to design wonderful proto-Rococo palaces and churches in Turin and Sicily; by comparison his only hometown work is very subdued.
The Theatines' church, just across the street, is San Vincenzo, with a lavish interior that was the resting place of the Este dukes.