San Vincenzo (Modena)
Unluckiest Church in Modena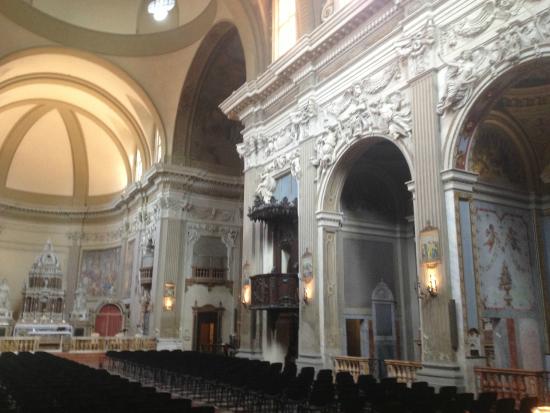 Even in this city of overwrought churches, San Vincenzo stands out. It was a project of the Theatines, a powerful and aristocratic religious order that in the mid-16th century had the full backing of the popes. The Theatines built churches that were perfect exemplars of the Counterreformation ideals of beauty and spectacle for the masses: light and airy, opulently decorated with heavenly frescoed vaults and stucco laid on like thick cake frosting. Their great church of Sant'Andrea in Valle in Rome was the model, and it is recaptured on a smaller scale here.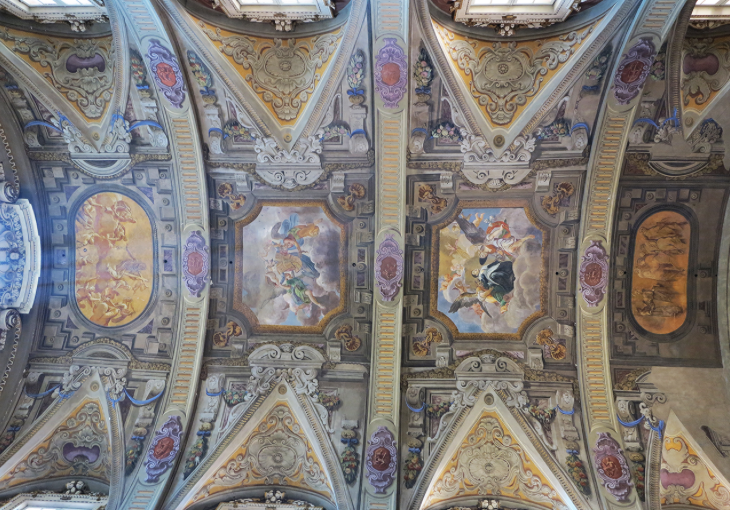 Begun in 1617, the church is largely the design of Bartolomeo Avanzini, the court architect who also worked on the Ducal Palaces at Modena and Sassuolo(he isn't responsible for the restrained facade, a compromise solution that was added later). While still under construction, San Vincenzo got even fancier, as Duke Francesco IV decided to make it a kind of pantheon for the Este dynasty. Results from this include the odd, pyramidal tomb of Duke Ercole III, and the octagonal chapel of the 1830's where are buried three dukes, all named Francesco, and miscellaneous other Este family members, including Laura Martinozzi, mother of Francesco II and also of Maria Beatrice Anna Margherita Isabella d'Este (b. 1658) the 'Mary of Modena' who married James II and became Queen of England.
Some of the artworks inside were destroyed in a bombing raid in 1944, including the frescoes of the dome and apse. There was an altarpiece with a Madonna by Guercino (1630), but it was stolen in 2014. The theft of such a large and heavy painting mystified the Carabineri until the following year, when this very unfortunate church almost blew itself up. A leak had filled the entire building with gas; it was discovered just in time, and the investigating firemen found a centuries-old hidden entrance that led to a clothing shop next door. Mystery solved; painting, valued at €5 million, still missing.
Corso Canalgrande 75
Hours Sat and Sun 10-12, 4-6pm