Collezione Umberto Panini (Modena)
Maserati Mojo and Moo-cows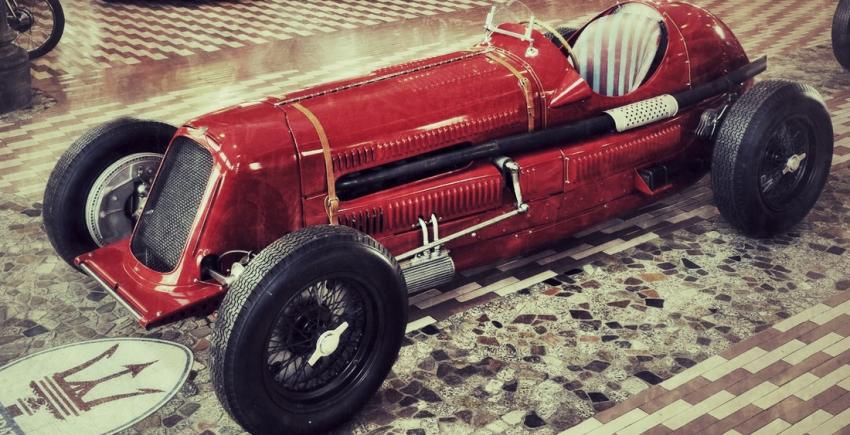 Any kid who grew up in Italy would instantly recognize the name 'Panini' as the company that produces collectable little stickers of sports heroes and much, much else. The company was founded in Modena in 1961 by two Panini brothers, who worked in a print shop. Today the firm is worth hundreds of millions of euros, and the Paninis have created Modena's Museo della Figurina as well as this museum of classic cars.
Umberto Panini (1930-2013), was the 7th of eight Panini siblings. As a young man he had worked as a welder in the workshops of Maserati and Stanguellini, and in 1957 went to Venezuela to seek his fortune (an experience which he said made him a real 'hombre').
He returned to Modena in 1964 to join the family firm, and in 1972 bought this farm which he named 'Hombre' to organically raise cows to supply the perfect milk for Parmesan cheese. And in one of the barns, his descendants display 19 historic Maseratis, including a very rare A6GCS Berlinetta Pininfarina, three time winner of the Mille Miglia race (along with a few BMWs and a little red Wolseley classic, Fifties petrol pumps, steam cars and vintage tractors).
But the Maseratis are the stars. This unique collection was owned by the company itself: founded in Bologna in 1914 by Alfieri Maserati and adopting, as its symbol, the trident of Neptune in Piazza Maggiore before it was purchased by the Orsi family and relocated to Viale Ciro Menotti in their home town of Modena, it was in danger of being auctioned off in London by its owners after the rest of the company was purchased by Fiat in 1993. Faced with the prospect of losing such an important slice of Modena's history, everyone from the Minister of Culture on down mounted a campaign to keep the collection in Modena...when Umberto Panini and other members of the family stepped up and purchased the cars.
Azienda Agricola Hombre, Via Corletto 320, off Stradello Borrone, 10km southwest of Modena.
Hours Open by appointment only March-July and September and October Mon-Fri 9.30am-12.30pm and 3-6.30 pm; Sat 9.30am-12.30pm.
Adm: Free
+39 059 220022