San Procolo
One of Bologna's First Martyrs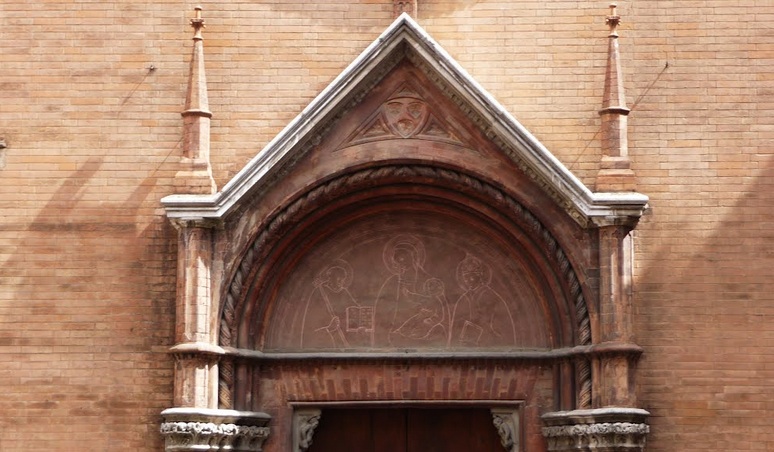 One of the city's oldest, begun in the 4th century and rebuilt over and over in the years since, this church commemorates a Roman legionary, St Proculus, a martyr under Diocletian who became one of Bologna's eight patron saints.
The pretty, peaceful Neoclassical interior is largely the work of Carlo Francesco Dotti, though after a big Napoleonic interruption work didn't get underway until 1826. Here, the highlight is the dome over the crossing, coffered and centred with an oculus to illuminate the main altar, like the Pantheon in Rome. Note the sarcophagus in front of the altar, with a little window that displays the saint's illuminated relics. Over this is a dramatic altarpiece of Proculus' beheading by the 18th-century painter Giuseppe Pedretti; the chapels include works by Leonello Spada, Bartolomeo Cesi and Alessandro Tiarini.
In the early days of the University, San Procolo and its monastery were connected with the school of law. On the wall outside the church, the scholars left a small plaque with a tongue-twisting Latin riddle on it, dated 1393—something about the campanile collapsing on a bell-ringer, or a student who died from overwork. It's so clever that no one today can figure out what it really says.
The adjacent monastery later became a convent and hospice, the place for Bolognesi to anonymously leave esposti e bastardini—abandoned children and 'little bastards'.
Via d'Azeglio 54
Hours Mon-Fri 6.30am-11am; Sat & Sun 9.30am-12noon.
+39 051 331223