Torre Prendiparte
Second Tallest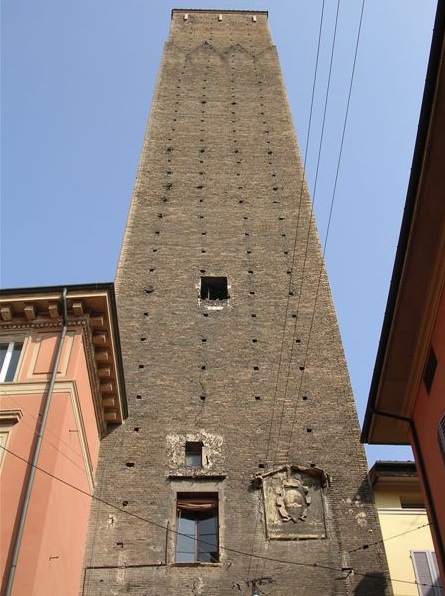 Also known as the Torre Coronata, this classic 12th-century Guelph tower soars 60m over the roofs of Bologna, topped only by the Torre Asinelli. Like all the best towers, it has a solid selenite base and walls 2.35m thick. Some of the 'potlug' holes on the façade (used for scaffolding when repairs were necessary) originally supported wooden structures, used for guards to fight any attackers; each floor apparently had emergency supplies.
It was built by the powerful Prendiparte family, descended from the Picos (which made them distant cousins of the famous Pico della Mirandola). These early feudal barons of the Po Valley owned much of the surrounding area and had over 200 serfs toiling for them.
The most famous member of the family, the splendidly named Prendiparte dei Prendiparti, led Bologna's army to victory against rival Imola and then against Emperor Frederick Barbarossa in 1174; after peace was made between the emperor and the Lombard League during the Peace of Constance, he even invited Barbarossa to come and stay at his palazzo in Bologna. He served as Bologna's consul and even as Podestà (a rare case, as nearly all podestàs in medieval, faction-ridden Italy were not from the towns they served, but impartial outsiders). He later joined Barbarossa in the Third Crusade to the Holy Land.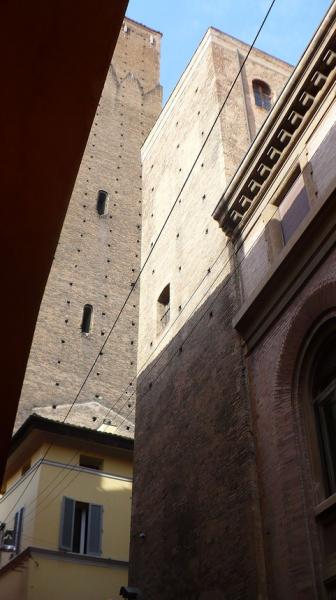 Near the Torre Prendiparte is the much stumpier Torre Guidozagni (Via Albiroli 1), which echoes the city's iconic Two Towers. This was part of a tower-house residence (the rest was demolished in the 15th century). In 1926 it was purchased by the local telephone company and restored before it fell over.
The Torre Prendiparte, for its part, was purchased by new owners and became part of the Seminario Arcivescovile in 16th century. When the seminary was relocated, the tower became a prison for those who committed crimes against the Church (stealing liturgical items, duelling in monasteries, etc), until it was confiscated by Napoleon. In 1972, restoration work began.
Today its twelve floors are used for special events, and as an exclusive B&B. Some of the upper floors have graffiti left by the archbishop's prisoners, and the views from the roof terrace are superb; they form part of Bologna Tourist Office's Friday and Saturday tower tours.
Via Sant'Alò 7
+39 335 5616858