Giotto
Florence's First Great Painter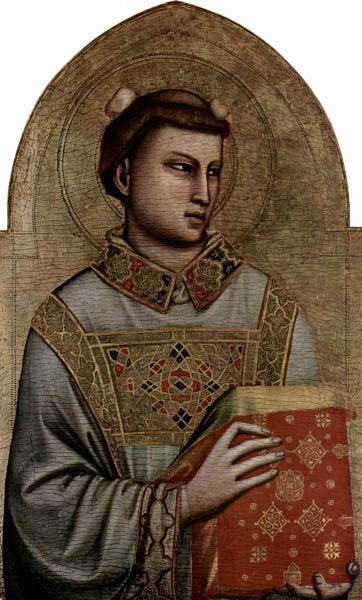 the most sovereign master of painting in his time, who drew all his figures and their postures according to nature 14th-century chronicler Giovanni Villani
Giotto di Bondone (c. 1266–1337) was the first great Florentine painter – and recognized as such in his own time by all, including Dante, whose portrait Giotto painted in the Bargello chapel and who wrote about him in his Purgatorio XI (94–96):
Cimabue believed that he held the field
In painting, and now Giotto has the cry,
So the fame of the former is obscure.
Giotto was the first to break away from the then prevalent Byzantine style, inventing an essential and direct approach to portraying narrative fresco cycles, but is even more important for his revolutionary treatment of space and of the human figure. He would inspire all the great Florentine painters who followed, from Masaccio to Michelangelo Buonarroti.
Giotto's early life is the stuff of legend. Was he a shepherd boy of Vespignano in the Mugello, discovered by Cimabue while drawing sheep on the rocks? Researchers today think not, that he may have been the son of a Florentine blacksmith. There is even doubt whether he trained with Cimabue, although if not Cimabue, no one knows who.
He was by most descriptions short and plain (his friend Boccaccio, who put him in one of his stories, wrote 'there was no uglier man in Florence') but he married, had a house in Florence and eight children; when Dante asked him how a man who painted such beautiful pictures could have such plain-looking children, Giotto who was famous for his wit, replied, 'I make them in the dark.'
His earliest known works in Florence are the Crucifix in Santa Maria Novella and the Madonna della San Giorgio alla Costa now in the Museo Diocesano di Santo Stefano al Ponte. But his reputation soon spread across Italy. Early on he wend in Rome, designing the once famed but now lost Navicella mosaic for Old St Peter's, considered his masterpiece in his day.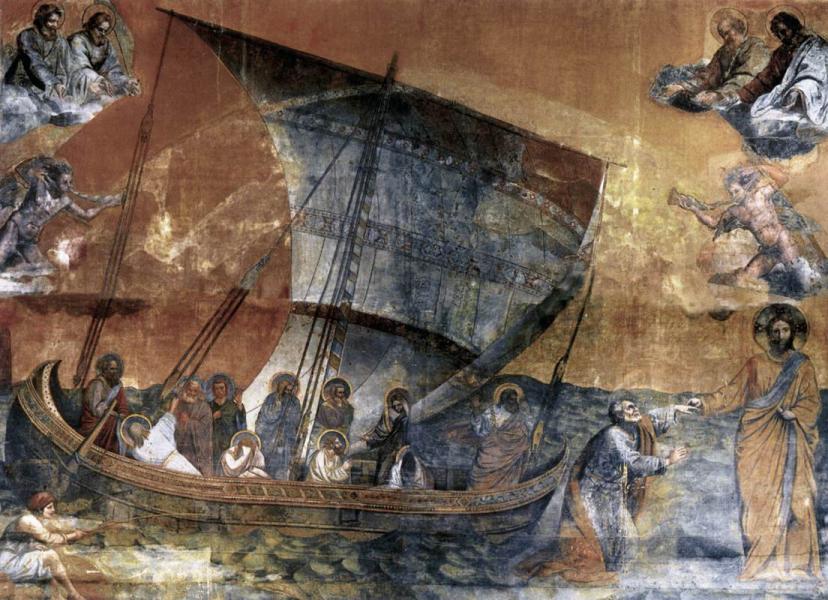 In 1305 he was in Padua, painting his influential masterpiece, the Scrovegni Chapel; from 1306-11 he was in Assisi, painting the lower church of San Francesco.
When Giotto returned to Florence, he painted the Peruzzi and Bardi Chapels in Santa Croce, although because he painted quickly, a secco instead in true fresco they aren't in the best condition. After stints in Naples and Bologna, he was appointed architect of the Duomo in 1334 and designed the Campanile. His other works in Florence are in the Museo Horne (St Stephen) and the Uffizi (the Ognissanti Madonna and Badia Polyptych).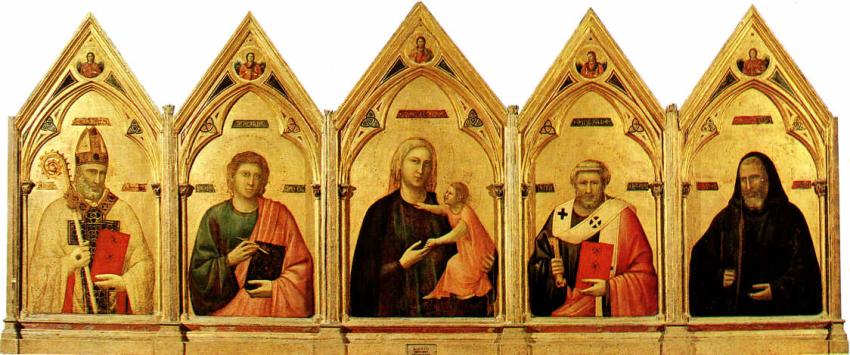 Giotto died in Florence, and buried in the cathedral. A skeleton measuring just over 4ft tall was discovered in 1970 during the rennovations of Santa Reparata under the Duomo and was analyzed forensically in 2000. The result seemed to strongly confirm the bones were the remains of Giotto, and they were reburied with honour by the grave of Brunelleschi.