Masaccio
Early Renaissance Shabby Genius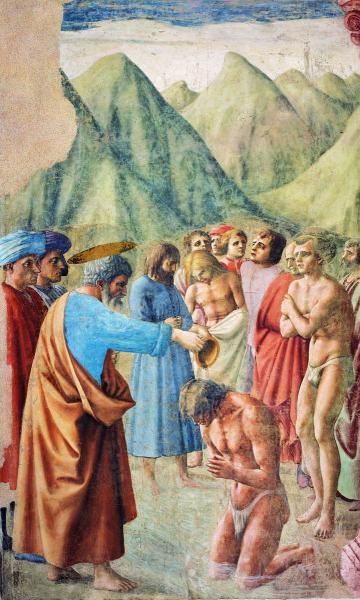 The precocious genius Tommaso di Ser Giovanni di Simone, otherwise known as Masaccio or 'shabby Tom' (1401– c.1428) died young and left few works behind, but gets credit for inaugurating the Renaissance in painting by translating his friends Donatello and Brunelleschi's perspective onto a flat surface, the first to make use of the vanishing point along with shading to portray a convincing three dimensionality. After Masaccio, Florentine art left behind the decorative idealizing International Gothic and moved towards a more naturalistic and more moving humanism.
Masaccio was the son of a notary in San Giovanni Valdarno near Arezzo, but little is known of his training; he is first documented in Florence in 1422, when he enrolled in the painters' guild, the Arte de' Medici e Speziali. In Florence he could study the works of the earlier revolutionary Giotto; the following year, according to Vasari, he went to Rome with his frequent and already well established collaborator Masolino ('little or delicate Tom'), 18 years his senior to study the ancients.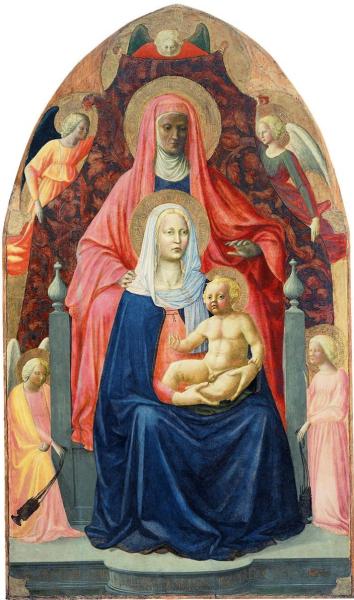 One of his earliest known works is the Virgin and Child with Saint Anne (c. 1424) in the Uffizi, painted with Masolino painted the elegant angels and St Anne, while Masaccio is believed to have added the more solid looking figures of the Virgin and Child.
Masaccio was also revolutionary in his use of light and shadow, and in expressing emotion in his subjects' faces, especially in the Cappella Brancacci (Santa Maria del Carmine), a project he took over from Masolino, using the older artist's designs, after Masolino went to Hungary to paint for the king in 1425. After Masolino returned, he joined Masaccio on the project, but for unknown reasons never finished until Filippino Lippi completed the work years later.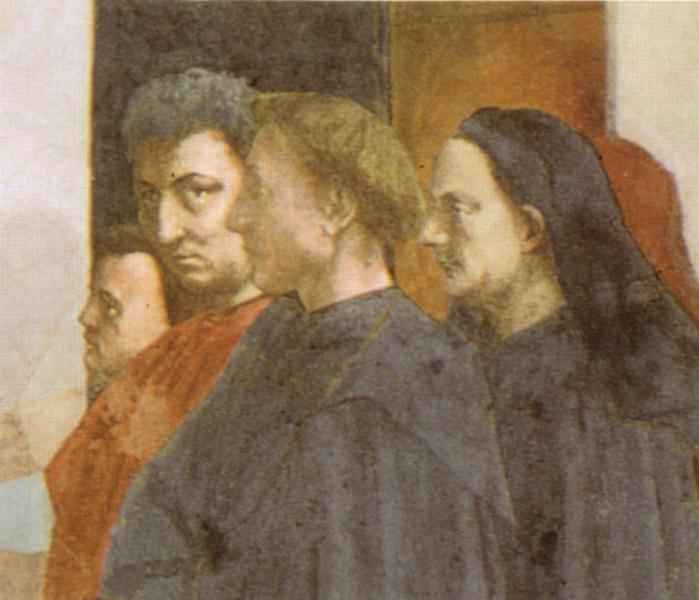 In the scene of St Peter Raising the Son of Theophilus and St Peter Enthroned as First Bishop of Antioch (see above) Lippi added the only known likeness of Masaccio (second from left) and Masolino (first left) along with Leon Battista Alberti and Brunelleschi on the far right.
In 1427, Masaccio painted the striking three-dimensional fresco of the Holy Trinity in Santa Maria Novella. He painted two other now-lost works, went to Rome to join Masolino and died there, aged only 27, some say poisoned by a jealous artist.