Rosso Fiorentino
Tortured Mannerist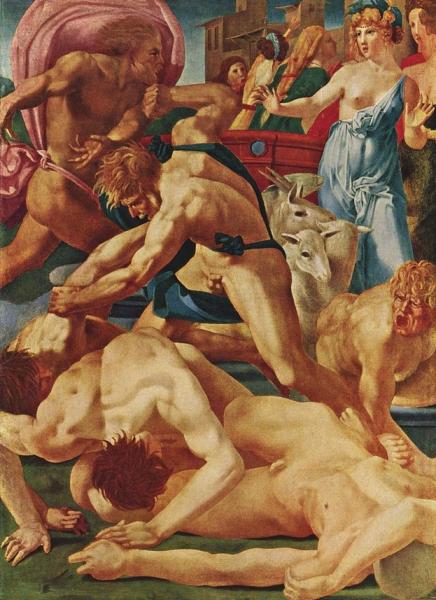 To give his full name, Giovanni Battista di Jacopo Rosso Fiorentino (1494–1540) was Florentine Mannerist painter who makes a fitting complement to Jacopo Pontormo, both for his tortured soul and for the exaggerations of form and colour he used to create gripping, dramatic effects. Both were born within a year of each other, within a kilometre of each other, and both were taught by Andrea del Sarto.
In other respects the painters were quite different. Rosso worked for the followers of Savonarola and the Florentine aristocrats who had created the short-lived Republic. Pontormo painted for their enemies, the Medici. Pontormo spent his life working in Florence, while Rosso travelled widely around Italy, working in Piombino, Naples and Volterra.
In 1524 he moved to Rome, and dared to criticize the Sistine Chapel (he later apologized to Michelangelo). He left after the traumatic Sack of Rome in 1527, living in Umbria before leaving the country altogether, working for Francis I at Fontainebleau before dying in France.
His strange and startling Moses Defending the Daughters of Jethro and unfinished Spedalingo Altarpiece are in the Uffizi; also see works in San Lorenzo.