Andrea del Sarto
Browning's Faultless Painter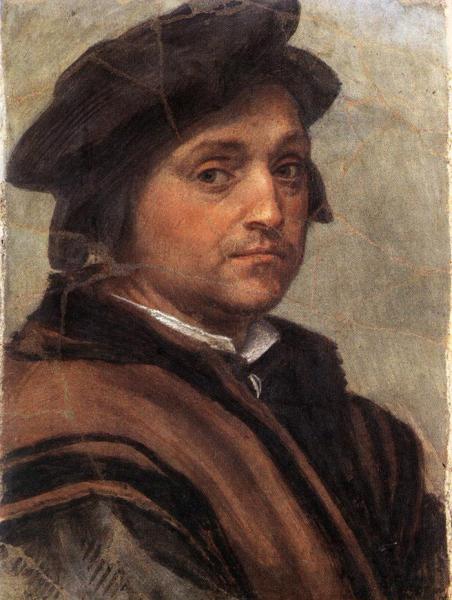 Florentine Andea del Sarto (1486–1530) was born Andrea d'Agnolo but was better known as 'del Sarto' (of the tailor) after his father's trade. He was a student of the quirky Piero di Cosimo and Raffaellino del Garbo, but he was also influenced by Leonardo's sfumato technique, although with a love of rich, proto-Mannerist colours.
Between 1509-14, he, along with his slightly older follower Franciabigio frescoed the atrium of Santissima Annunziata with the Life and Miracles of Filippo Benizzi, the Procession of the Magi and his masterful Birth of the Virgin which was so admired that he was nicknamed Andrea senza Errori, the Faultless Painter.
He would return in later years to paint other scenes at SS. Annunziata, including one of his masterpieces the Madonna del Sacco in 1525. Alongside that project, Franciabigio and Andrea also began a series of monochrome grisailles in the Chiostro dello Scalzo, work that Andrea would return to again and again throughout his career. An odd choice, it seems, for someone in love with colour. But they prove his exquisite draughtsmanship, especially the lovely Baptism of Christ.
In 1518-19 Andrea went to France at the invitation of François I, leaving his beautiful wife and model for his Madonnas, Lucrezia, behind. Andrea had fallen in love with her when she was married to a hatter, who conveniently died. Historians argue whether she was the money grubbing harpy portrayed by Giorgio Vasari, biographer and one of Andrea's students (he was introduced to Andrea by Michelangelo): 'faithless, jealous, and vixenish with the apprentices,' said Vasari, who should know, and who would write his biography in his Lives of the Artists.
The story (used by Browning in his poem, Andrea del Sarto) is that while he was in France, Lucrezia wrote to him, demanding his return. François gave his permission for a leave of absence, and also entrusted him with a sum to purchase paintings for the French court, which Andrea used instead to build a rather grand house not far from the Scalzo, and so became a persona non-grata in France.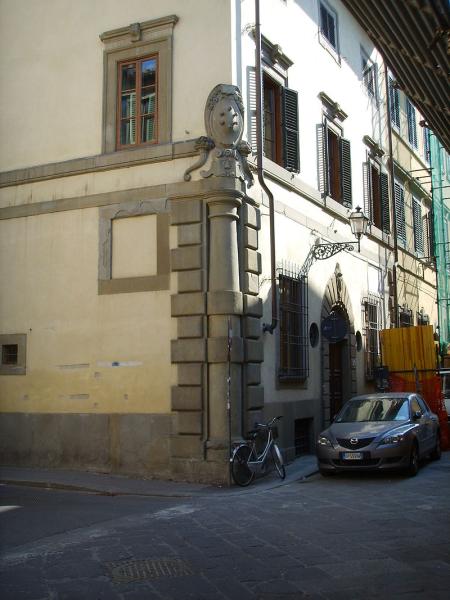 It still stands on the corner of Via Gino Capponi 22 and Via Giuseppe Giusti 49 (today it houses the offices of the cultural Kunsthistorisches Institut).
After Andrea worked on altarpieces, including his masterful Madonna of the Harpies painted for the church of San Francesco dei Macci in Florence, now in the Uffizi, so named after the figures on the Madonna's pedestal.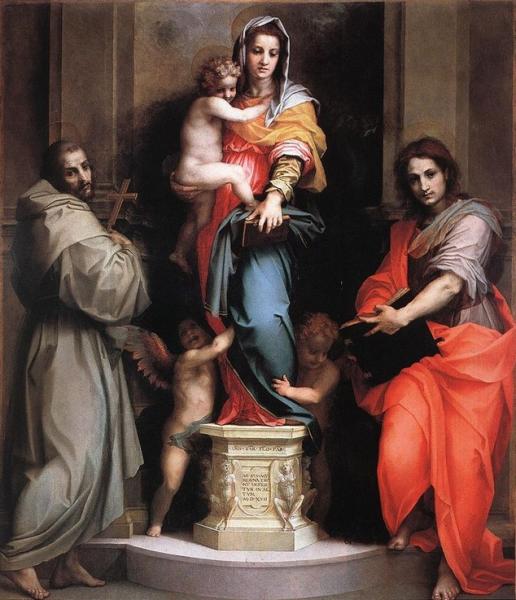 His final work, the Cenacolo di Andrea del Sarto (San Salvi) was much praised by Vasari. He stayed in Florence during the terrible siege of 1529-30, and caught the plague. Vasari remarks that he died alone and uncared for by his Lucrezia (who was probably afraid of catching it), and who outlived him by 40 years.
Other works in the Palazzo Pitti and the Villa Medicea di Poggio a Caiano.