Guilds: the Original Ruling Class
The 'Arti' of Florence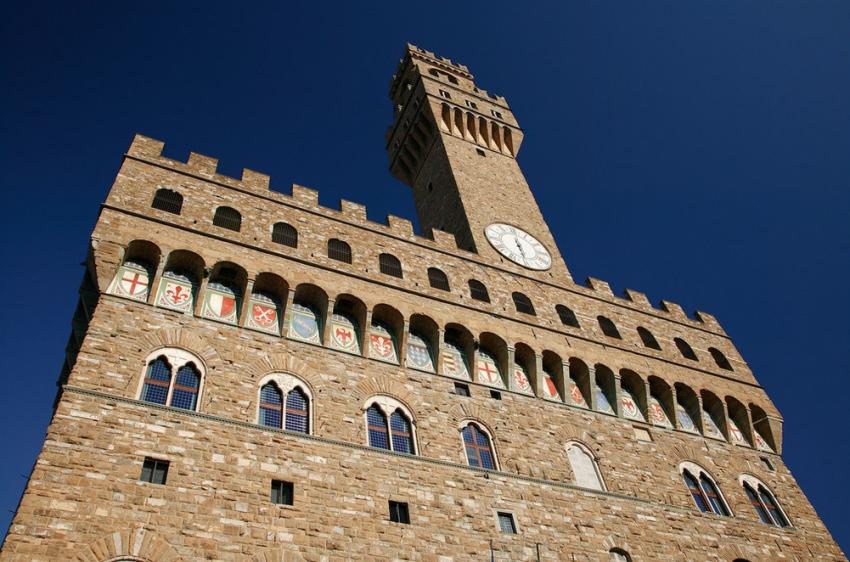 After the Guelph triumph in the 13th century and the exile of the Grandi (or nobles) from politics, Florence was governed by an oligarchy of guilds, or arti.
There were 21 arti, including the Arti Minori (the 'lesser trades') and the Arti Medianae (the 'middle trades') but political power lay in the hands of members of the seven elite guilds, the Arti Maggiori: the lawyers, the Arte dei Giudici e Notai; the great textile merchants, the Arte della Lana (wool) the Arte di Por Santa Maria (silk) and the Arte de Calimala (cloth); the bankers, the Arte del Cambio; the doctors, apothecaries, and spice sellers, the Arte dei Medici, Speziali e Merciai, and the leather and fur dealers, the Arte dei Vaccai e Pellicciai.
The vast majority of Florence's population of humble workmen need not apply, nor did much of Florence's great wealth as a world capital in the 14th century trickle down their way. By 1378 they were starving, leading to the soon-squelched revolt of the ciompi.
Medieval Florence made her first fortune by taking in wool and silk from around Europe, refining, finishing and dyeing it. The wool guild was rich enough to build the Duomo; the bankers' guild, in 1252, made great fortunes easier to get when they minted a little gold coin known as the florin, that was soon used throughout Europe.
The oligarchy kept up a sheen of disinterest in the way it governed the republic. All guild members over the age of 30 had their names put in leather bags in Santa Croce, and every two months, nine names would be drawn, six from the seven major guilds, two from the 14 minor guilds, and one who was elected to be the Gonfaloniere, the city's standard bearer. For two months these lottery-chosen officials were the priori, or priors, who made up the government of the Signoria that ruled Florence.
Upon election, they had to go and live in the Palazzo Vecchio, which to this day still displays their stemmi or coats-of-arms. The food was good, however, and there was a jester on hand to keep them happy. If there was a serious crisis the priori couldn't deal with, the tower bell would summon all male Florentines over the age of fourteen to the Piazza della Signoria for a parlamento. When two-thirds had gathered, they would be asked to vote to give full powers to a balìa, or emergency committee.
The Florentines often patted their own backs for inventing this system as proof against tyrants but, in practice, it was as easily manipulated and rotten as any. Which-ever family was richest and had the most supporters decided which names were put in the bag, and if somehow priori not favour-able to their interests were chosen, they would call a rigged parlamento and vote for a balìa to dismiss them. It was as easy as that.