Santa Felicità
Home of Pontormo's Uncanny Deposition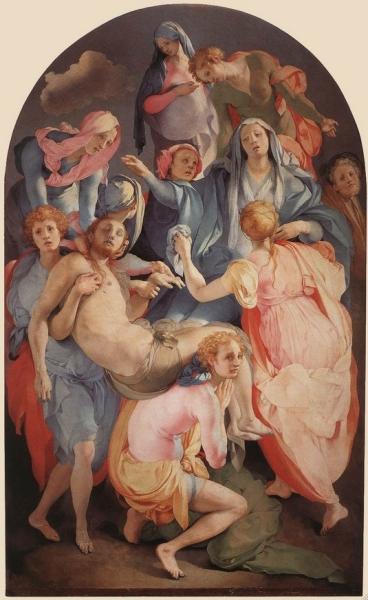 Although rebuilt in 1736, Santa Felicità is one of Florence's most ancient churches, founded (or so they say) by the Syrian Greek traders who introduced Christianity to the city, and who established the first Christian cemetery in the small square in front of the church. The dome was destroyed in the mid-16th century to make way for Cosimo I's catwalk, the Vasari Corridor, which is awkwardly part of the upper façade.
There is one compelling reason to enter, and it's in the first chapel on the right, the ne plus ultra of Mannerism: Jacopo Pontormo's weirdly luminous Deposition (1528), painted in shimmering chromatic pinks, oranges and blues that cut through the darkness of the little chapel.
Michelangelo wrote that 'One paints with the head, not with the hand': and here naturalism gives way to idea, Pontormo's weightless figures, almost seeming to dance in a circle with the dead Christ. Flaunting all convention, a blue rag holds centre stage in the composition; there is no sign of a cross, the only background is a single cloud.
Sharing the chapel is Pontormo's Annunciation fresco, a less idiosyncratic work, as well as four tondi of the Evangelists in the cupola, partly the work of Pontormo's pupil and adopted son, Bronzino.
Also seek out the Sala Capitolare with frescoes of the Annunciation and Crucifixion by Niccolò di Pietro Gerini and Santa Felicità's Brunelleschi-style sacristy (1470), attributed to Michelozzo; two works here are a polyptych with Madonna with the Child and Saints, by Taddeo Gaddi, and the Adoration of the Magi, by Francesco di Antonio (1450).
Santa Felicità's Column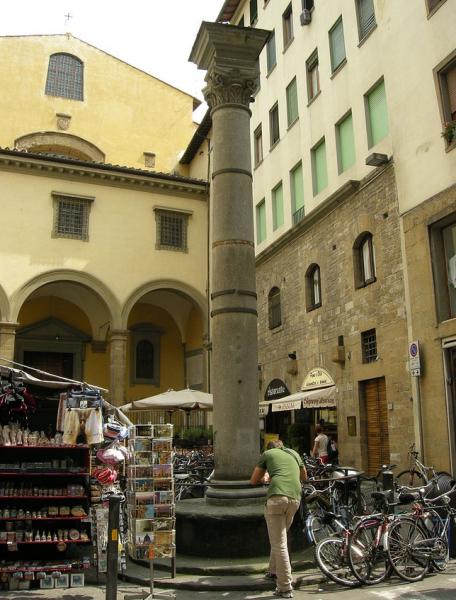 In front of the church is Florence's second column dedicated to St Peter Martyr; like the other, the Croce al Trebbio near Santa Maria Novella, it celebrates a street brawl and massacre of heretics on the spot by Peter's Società di Santa Maria.
The column, originally topped by a terracotta statue of the saint, was erected in 1484 by Amerigo di Rossi, descendant of a follower of St Peter. Other statues followed, until the Germans broke up the column during their mining of the accesses to the Ponte Vecchio towards the end of the Second World War. Since then it's been put back together with iron bands, but most people pass by without giving it a second glance.
Piazza Santa Felicità
Hours 9am-12noon, 3-6pm; Sun and holidays 9am-1pm
Adm Free