Ognissanti
All Saints, the Church of the Vespucci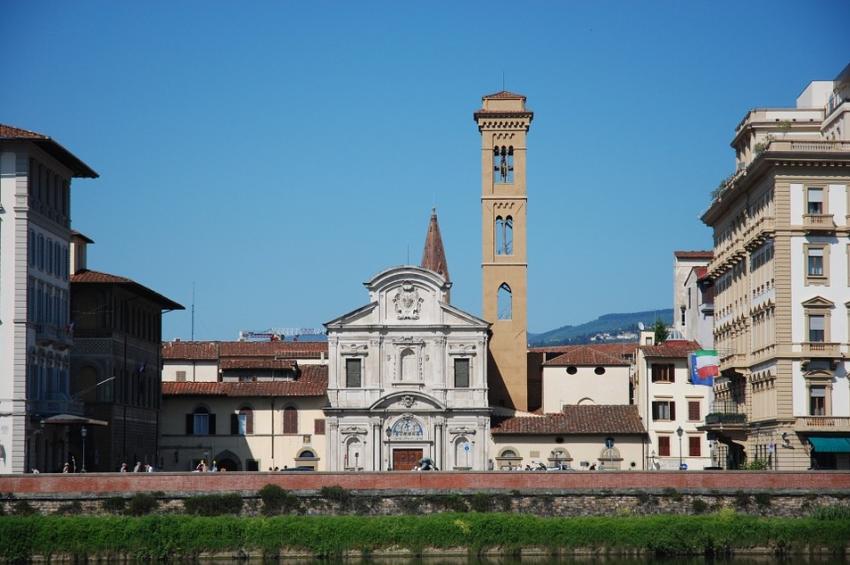 To the west of Piazza Goldoni lies the old neighbourhood of Amerigo Vespucci, the only Florentine to have a continent named after him. His parish church, All Saints' or Ognissanti, is set back from the river behind a dingy Baroque façade. It was built on property donated in 1256 by the Umiliati, a lay order from Lombardy known as the 'Humble ones' for their simple grey garments and vows of extreme poverty. The Umiliati specialized in wool-working (they had learned the latest techniques in Germany, which they introduced to Italy to give the poor work). Originally a small stream flowed into the Arno near here, which they harnessed to provide power for the mills.
The Umiliati were well respected in Florence for their honesty and integrity; several members were canonized; in Florence they served as administrators in the city government. Appreciative wealthy benefactors commissioned the greatest artists of the day to decorate the church, including Giotto, whose famous Madonna with Angels altarpiece is now in the Uffizi, and who also probably painted the Crucifixion in the Sacristy, according to the results of a recent restoration.
The Vesupucci, who were never short a few florins, commissioned Ghirlandaio's fresco of the Madonna della Misericordia over the family tomb (second altar to the right) and little Amerigo himself – although it may be another Florentine talltale – is said to be pictured under the Madonna's right arm. Ghirlandaio also frescoed the scenes of the Pietà and St Jerome in his Study.
Ognissanti was also the chuch of the Filipepi family, one of whom was Alessandro di Mariano di Vanni Filipepi, aka Botticelli, who left the church a youthful fresco St Augustine in his Study. His last wish was to be buried at the feet of the legendary beauty and probable model, Simonetta Vespucci.
In 1571, the Order was abolished and replaced by the Observant Friars Minor, who built a pair of cloisters and gave the church its prize relic: the habit worn by St Francis when he received the Stigmata, inherited from San Salvatore al Monte.
Ghirlandaio's Cenacolo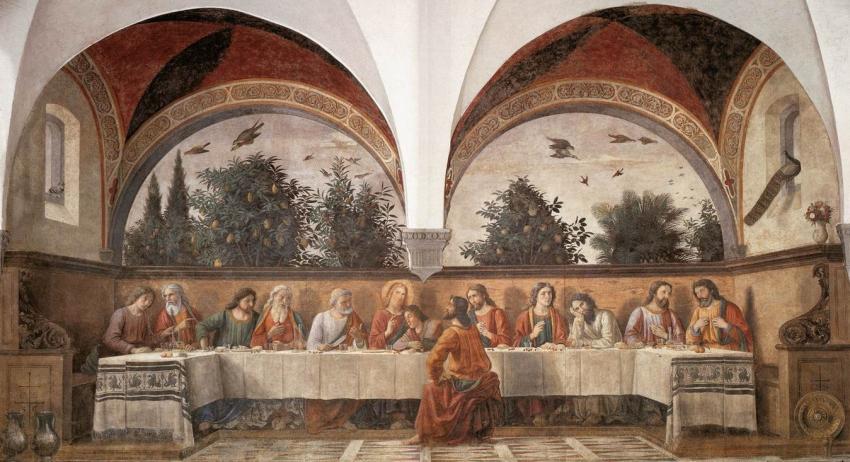 But Ognissanti's best art is kept in the Convent, just to the left of the church at No.42, where the refectory was frescoed with a great Cenacolo by Domenico Ghirlandaio in 1480.
It's hard to think of a more elegant Last Supper, here a garden party with fruit trees and exotic birds; a peacock sits in the window, cherries and peaches litter the lovely tablecloth. Look too for the beautiful terracotta Madonna and Child by Nanni di Bartolo.
As you leave, note the extraordinary Art Deco building at No.60r Borgo Ognissanti, an unexpected sight in this sober street.
Piazza d'Ognissanti is dominated by two five-star hotels, but the most notable building is the Palazzo Lenzi, from the first half of the 15th century and lavishly covered with graffiti; it now houses the French Consulate.
Borgognisanti 42
Hours Mon, Tues and Sat 9am–12pm
Adm Free
+39 055 239 6802