Amerigo Vespucci
The Ultimate Name Dropper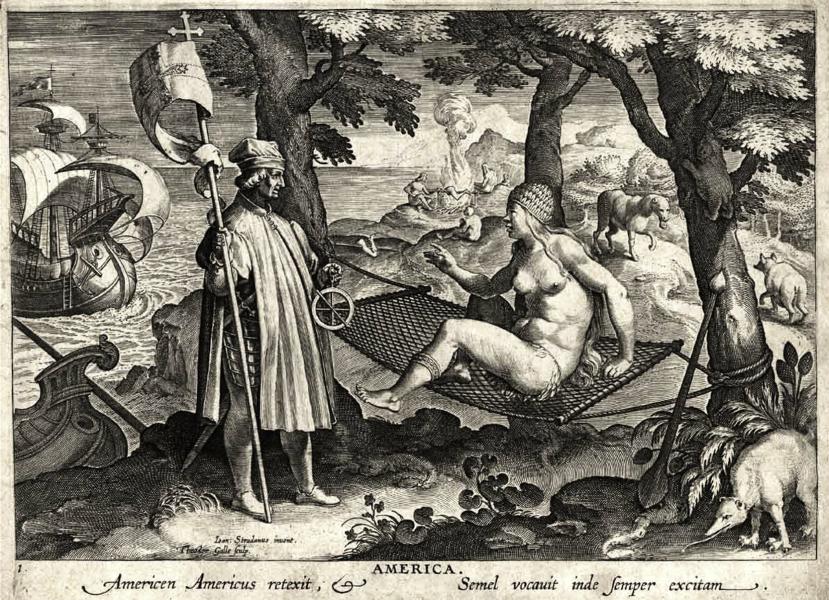 I hope to leave some fame behind me after I die.Amerigo Vespucci
Merchant, explorer and the only Florentine to lend his name to two continents, Amerigo Vespucci or Americus Vespucius in Latin (1451–1512), was the son of a notary and raised in the Ognissanti neighbourhood of Florence.
His family were close to the Medici. His uncle, Lorenzo de' Medici's ambassador to France, took young Amerigo along on a diplomatic tripto Paris, awakening a love of travel. Amerigo later worked in the Medici bank, and was sent to Seville in 1492 to help run the family ship outfitting business, supplying beef to Columbus's voyages. Vespucci met Colombus in person in 1496, had a chat and was fired up to go see the 'Indies' for himself. Business was down. He was in his 40s, ready for adventure and off he went as an observor with the Portuguese fleet.
Vespucci's Voyages
No one is sure if Vespucci sailed two, three or four times across the Atlantic: there is a letter to Gonfaliere Piero Soderini, the leader of the Florentine Republic dated 1497, describing Venezuela and the Bahamas and people in hammocks; if true he would have beat Columbus and John Cabot to the mainland. Some claim it is a forgery.
His voyage of 1499 is more certain, when he accompanied the Portuguese fleet, landed in Guyana and sailed to the mouth of Amazon, which he still believed was the Ganges.
On his next voyage in 1501, he was given command of the Portuguese ships and sailed south, past Rio de Janeiro and into Patagonia. As Columbus himself had begun to suspect, he realized that the land was far bigger than anything described by Marco Polo, and could not possibly be the far eastern most coast of Asia; as he wrote to his protector, Lorenzo di Pierfrancesco de' Medici, this was an entirely new continent, a Mundus Novus, a new world.
Vespucci's letters describing his observations on the natives' rituals, diet, customs and sex lives were translated into several languages and printed, and became best sellers in their day (they are said to have sold better than Columbus's own, probably because of the sex).
Vespucci may have made another voyage or two in 1503-4. Although he came to sailing late in life, he was an expert navigator. He became a citizen of Spain and was appointed Pilot Major by the king, and trained future navigators until his death from malaria.
How America too his name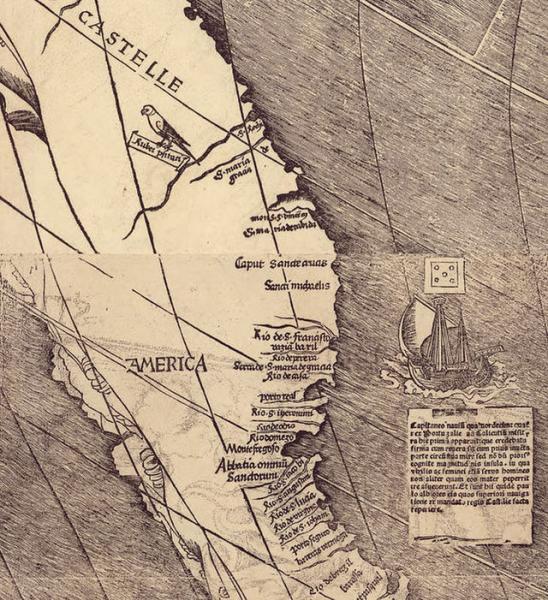 Over the centuries Vespucci's reputation has had its ups and downs. Fans of Columbus accuse him of having tried to horn in on his achievements and discoveries. But Vespucci had nothing to do with most enduring: leaving his name to this Mundus Novus.
In 1507, a group of scholars at Saint-Dié-des-Vosges were compling a book on cosmology called Cosmographiae Introductio, a book of cut out maps. German priest and cartographer Martin Waldseemüller drew the recently discovered continent, writing the name 'America' on what is now Brazil: 'I see no reason why anyone should justly object to calling this part ... America, after Amerigo, its discoverer, a man of great ability.' To justify his decision, he published one of Vespucci's letters.
Cosmographiae Introductio sold like hot cakes, and some say that although Waldseemüller had second thoughts about the name, it was too late. In 1538, when Gerardus Mercator drew his famous map, he stuck the name 'America' on both New World continents, and the rest is history.