Villa Careggi
The Birthplace of Humanism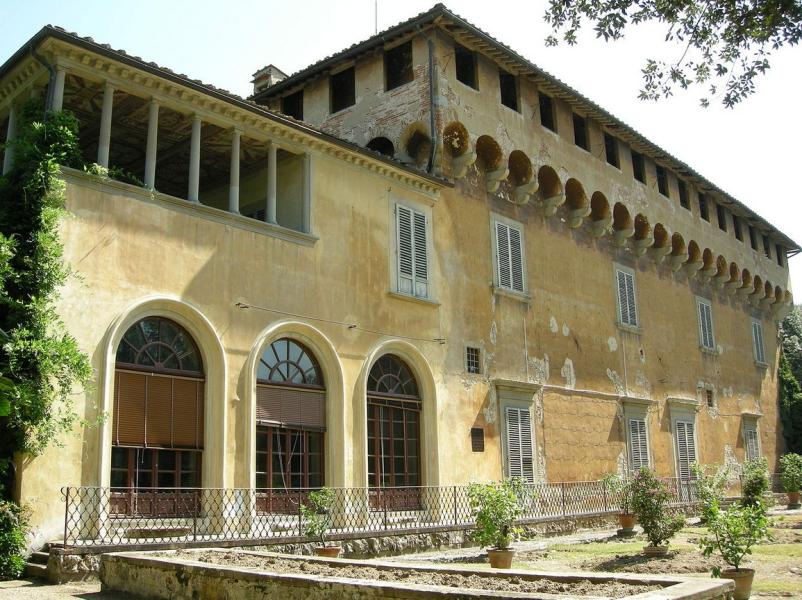 Perhaps the best-known Medici villa is Careggi, a fortified farmhouse that was enlarged for Cosimo il Vecchio by Michelozzo in 1434.
It became synonymous with the birth of Humanism when Cosimo founded his Platonic Academy here, which was eagerly continued by his grandson, the Magnificent Lorenzo. The greatest Latin and Greek scholars of the day, Marsilio Ficino, Poliziano, Pico della Mirandola and Argyropoulos, would meet here and hold philosophical discussions in imitation of a Platonic symposium; every 7 November they would hold a splendid banquet in honour of Plato's birthday.
As Cosimo il Vecchio and Piero had both died at Careggi, when Lorenzo felt the end was near at age 43, he had himself carried out to the villa, with Poliziano and Pico della Mirandola to bear him company, and Savonarola to confess him. Five years later, Ficino died here as well.
Afterwards the villa was neglected, although the Platonic Academy carried on, continuing to meet near Santa Maria Novella at the Orti Orcellari. Grand Duke Cosimo I later had it rebuilt when the Medici returned to town, and Sir Francis Sloane, one of Florence's greatest benefactors (he also paid for the façade of Santa Croce) paid for its restoreation, planted the garden with cedars of Lebanon, sequoias and Himalayan cedars, and lived there until he died. In the 1936 it became a hospital.
Villa Careggi still houses the administrative offices of the Hospital of Careggi, but visitors are welcome to tour the ground floor with its 17th-century frescoes added by Cardinal Carlo de' Medici and the beautiful gardens.
Viale Gaetano Pieraccini 17
Hours Mon-Fri 9am-6pm (the hospital prefers visits in the afternoon); Sat 9-12. Closed Sun and hols.
Adm Free
+39 055 4279755