Marzocco
The Lion of Florence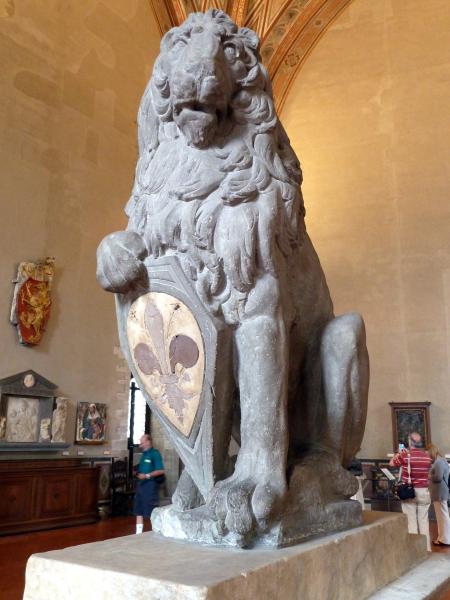 Florence doesn't have quite as many lions as Venice, but it has its fair share. But like Venice's lion of St Mark, the Marzocco is no ordinary creature; it evolved from a statue of the war god Mars, once placed as the guardian on the Ponte Vecchio, where it witnessed the first blow in the war between Guelphs and Ghibellines (see the illuminated manuscript in the Museo Casa di Dante) before it was washed away in the Arno flood of 1333.
According to legend, the Florentines decided to morph Mars into a lion because in a one on one, a lion could defeat an eagle, and eagle was the symbol of the hated imperial party. Another story goes that a real lion, kept in a cage by the Baptistry, escaped in 1280 and grabbed a child, but returned it unharmed to its mother. Lions thereafter were regarded as good luck. 'Marzocco!' was part of the Florentine battle cry.
Lions were later kept in cages behind Palazzo Vecchio, to what is now Via dei Leoni, until 1550. When the Uffizi was built they were moved out to Piazza San Marco. After 1770, the city made do with stone ones. A 14th century one (said to have been the republic of Florence's first secular art commission) was gilded and stood outside the Palazzo Vecchio alongside the ringhiera, the platform used for public addresses, that appears in several paintings including Ghirlandaio's Confirmation of the Rule.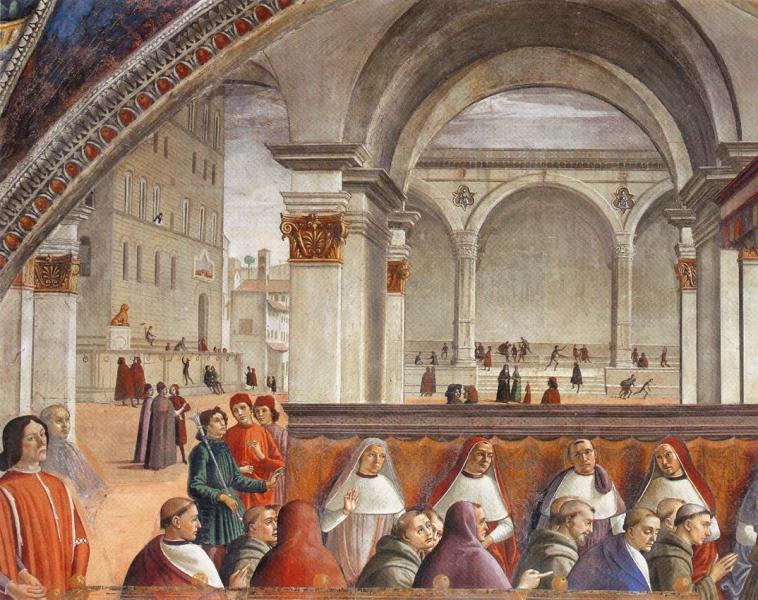 The most famous Marzocco is the grey pietra serena lion guarding the red lily of Florence, sculpted by Donatello in 1418 specifically to stand on a column at the foot of the stairway (now demolished) that led to the papal apartments in Santa Maria Novella, when Martin V overstayed his welcome on his way back to Rome after the Council of Constance (Bavaria).
Since 1812, a copy of Donatello's Marzocco has stood in the Piazza della Signoria (the original is in the Bargello).