ail
garlic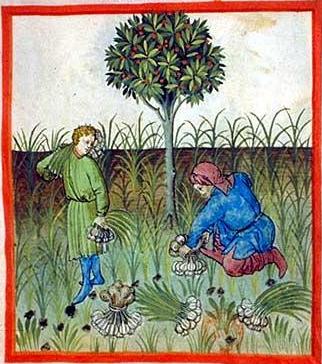 Une caresse d'ail revigore, un excès d'ail endort.
(A caress of garlic invigorates, an excess of garlic deadens). Curnonsky
The Gers is the garlic capital of France, producing both the white and violet varieties, notably in and around the bastide town of Saint-Clar de Lomagne, where garlic lovers won't want to miss the Maison de l'ail, the House of Garlic.
Fresh garlic (l'ail nouveau) is sold in June and July, often with the stem still attached to the bulb. Fresh autumn garlic (l'ail d'automne) is available from October to December. Otherwise you will find dried white and purple garlic. Sometimes there isn't enough for the French market and they bring it in all the way from Argentina!
There are several protected kinds
Text © Dana Facaros
Images by DDM/FC, ile des tropiques, JJ Georges, Creative Commons License, Peter Isotalo on Wikimedia Commons