Comté
Beloved cow's milk cheese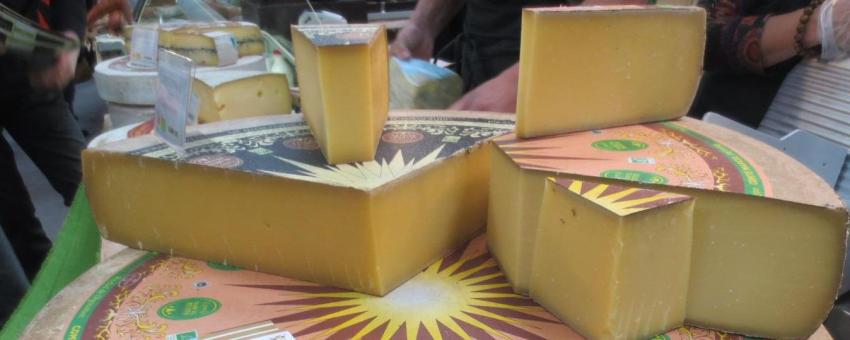 In surveys, pale yellow, firm, rich, nutty and fruity Comté often comes out on top as the favourite cheese of the French.
One of the first cheeses anywhere to be designated AOC/AOP back in 1958 (when it was called Gruyère de Comté), it's made exclusively on 3000 family farms from fodder-fed Montbéliarde or French Simmental cows in the Jura Mountains. By law, each cow has her own hectare for grazing. In winter she dines exclusively on locally harvested hay.
Each mighty wheel of Comté—requiring 450 litres of milk on average—has a distinctive taste, depending on the age and origin. Because of the massive amount of milk required, locals came up with the idea of producing the cheese in 153 village-based fruitières (cheese-making facilities), a precursor of modern cooperatives. The first one mentioned in writing goes back to 1264, but they are believed to be at least 200 years older.
In the fruitières the cheeses are ripened for a few weeks before being sent to the 16 ateliers d'affinage or maturing cellars, where the affineurs keep them for four months and often more, turning, salting and rubbing the cheeses with brine solution.
After four months each wheel is tested on its taste and shape by the 'jury terroir' made up of volunteers from the Comté sales and distribution sectors.
Those scoring over 14 points are given the green band representing excellence (roughly 1.25 million a year); those scoring between 12-14 points will be given a brown band. And rounds that score less than 12 will not be sold as Comté.
You can learn all about it at the new Maison du Comté in Poligny.