piperia
πιπεριά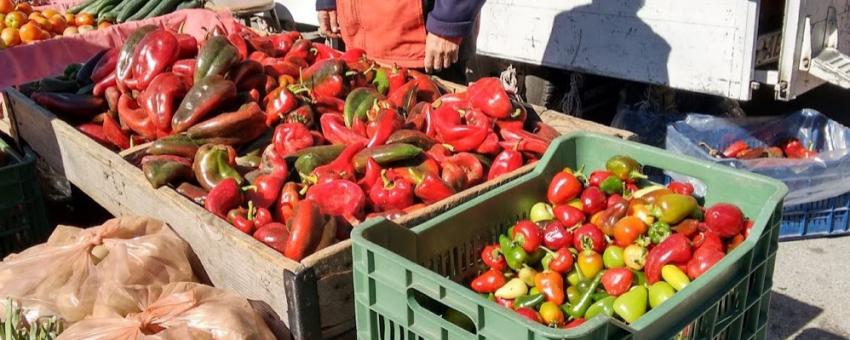 Peppers or chillis: both the green kind that appear in Greek country salads or in yemista and the spicy ones.
κέρατα (kerata): long pale green horn-shaped peppers, that sometimes have a bit of a kick
πιπεριά Φλωρίνης (piperia florines): Sweet red peppers also shaped like cow horns, that grown in the prefecture of Florina in northwest Macedonia. They are often served roasted (πιπεριές ψητές, piperia psites), or stuffed with minced meat and rice or feta, dried or preserved in oil or roasted and blended to make aivar; the seeds are dried to make chilli flakes. Designated PDO (ΠΟΠ) in 1994.
πιπεριά τσίλι (piperia chili) chilli peppers
καυτερό πιπέρι (kaftero piperi) hot spicy pepper
πράσινο πιπέρι (prasino piperi) green bell pepers
χρυσή Ελληνική πιπέρι Golden Greek peppers, mildly hot usually pickled and a bit less bitter than the similar Italian pepperoncini. Both are grown from friggitello seeds.
τσούσκες (choukes) red hot cayenne peppers
A Sad Story but Lessons Learned
The region of Western Macedonia, where Florina is located, is spicy pepper territory par excellence. In Aridea, east of Florina, they grew the legendary Aridea pepper, once considered the equal to Hungary's paprika...until they went extinct decades ago when farmers planted other varieties in the same vicinity and they cross-pollinated, losing their special heat and flavour.
Lessons were learned and today in Amyntaio, on the shores of Lake Vegoritida, they are extremely careful to isolate the precious crop and seeds, keeping far from away from any other chillis. the Naoumidis family's Piperies Florinas are one of the biggest producers.