bakalaos
Mπακαλάος

Cod (Gadus morhua). Often called bakaliaros.
A native of the North Atlantic, cod came to Greece as it did to the rest of the Mediterranean, dried or salted (μπακαλιάρου ξαρμυρισμένο, bakaliarou zarmyrismeno) Before the 20th century, when transport into Greece's mountainous interior was by mule and refrigeration nonexistent, it was one of the few kinds of fish many people living in the interior ever saw.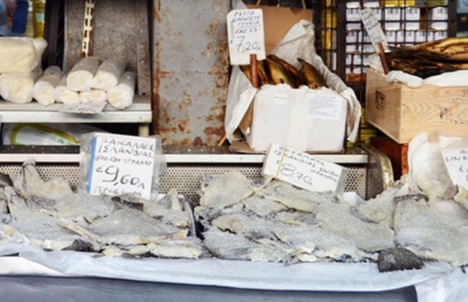 Batter fried bakalaos with skordalia is the classic fare for lunch on Greek Independence Day (25 March), after everyone goes to the parade of local school children in their traditional costumes. Because it coincides with the Annunciation, 25 March is also the one day during Lent when Orthodox church allows fish and wine.