tyri
τυρί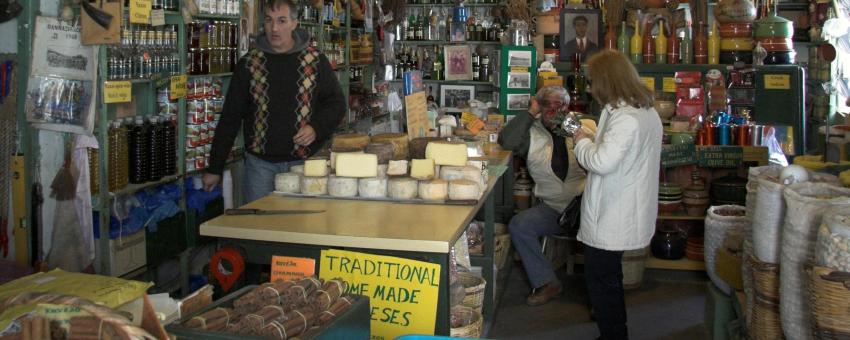 Cheese in general. Some labels you may see include:
κατσικίσιο τυρί (katsikisio tyri): goat cheese
μπλε τυρί (blu tyri): blue cheese
παστεριωμένο (pasteriomeno): pasturized
πρόβειο τυρί (proveio tyri): sheep cheese
τριμμένο τυρί (trimmeno tyri): grated cheese
τυρί αγελαδινού γάλακτος (tryi ageladinou galaktos): cow's milk cheese
τυρί κρέμα (tyri krema): cream cheese
Cheese in Homer
In the Odyssey, Polyphemus the Cyclops was actually a hard working shepherd according to the way Odysseus describes him, who made his cheese much the same way Greeks do today. He carefully divided whis flocks of kids and sheep by age (which ensures a continuous supply of fresh milk). His dairy had shelves laden with cheese and bowls of whey. Odysseus and his men steal some, and against his men's sound advice, Odysseus decides to wait for the Cyclops to return home, curious to see what kind of being he was, and hoping to get a 'guest gift' according to the laws of hospitality.
He descibes Polyphemus's arrival:
Back he came from the pasture, late in the day,
herding his flocks home...
Then down he squatted to milk his sheep and bleating goats,
each in order, and put a suckling underneath each dam.
And half of the fresh white milk he curdled quickly,
set it aside in wicker racks to press for cheese,
the other half let stand in pails and buckets,
ready at hand to wash his supper down...
So there he was, making feta, only to find a crowd of strangers in his dairy helping themselves to the fruit of his labours. Of course he was upset!