Cuts of Meat
Useful words at the butcher's
As in other countries, some cuts of meat have different names in different parts of Greece, and others cut meat differently (Greek butchers tend to use French styles). For a very detailed Greek and English list of every possible cut of beef, see Stelma Meats.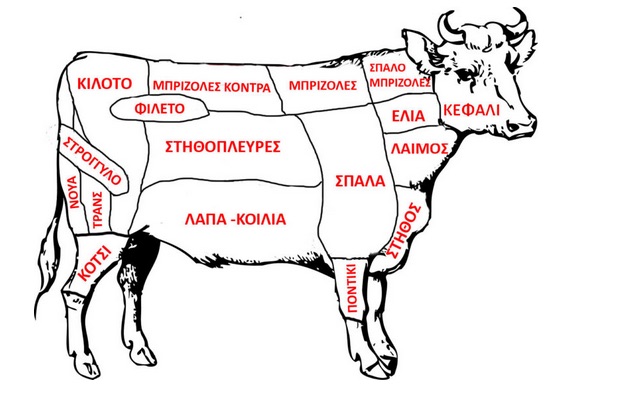 Breast/Brisket: στήθος (stithos)
Blade: χτένι σπάλας (chteni spalas)
Bone: κόκκαλο (kokalo)
Carcass: σφάγιο (sfagio)
Cheeks: μάγουλα (magoula)
Chuck: λαιμός (limos); σπαλομήτα (spalouda) or βασιλοπούλα (vasilopoula), literally 'the Princess' is the most tender bit. Ελία (Elia, literally 'olive' is the most tender bit, said to be the best for beef giovetsi).
Fat λίπος (lipos)
Filet/tenderloin: φιλέτο (fileto), specifically μοσχαρίσιο φιλέτο (moscharisio fileto).
Flank: λάπα/κοιλιά (lapa/kilia); flank steak μάτι λάπας (mati lapas); thick flank χονδρή λάπα (chondri lapa); bavettes μπαβέτα (bavetta)
Head: κεφάλι (kefali)
Heart: καρδία (heart)
Kidneys: νεφρά (nefra)
Knuckle/shin κότσι (kotsi)
Liver συκώτι (sykoti)
Mince (ground beef): κιμάς (kimas)
Neck: Λαιμός (laimos)
Round steak: στρογγυλό (strongylo)
Ribs: στηθοπλευρές (stithoplevres) στήθος (stithos). Origin of T-bone and Porterhouse steaks
Rib steak/roast: μπριζόλα (brizola) rib-eye steak μάτι μπριζόλας (mati brizolas); μπριζόλα χωρίς κόκκαλο και καπάκι prime rib
Roast beef (striploin): κόντρα (kontra). The upper part is the source of sirloin steak, κόντρα φιλέτο (kontra fileto)
Rump: κυλότο (kyloto) from the French culottes
Shank (shin): ποντίκι μοσχάρι (pontiki moschari) Literally 'mouse' in Greek, the ψθτ used in ossobuco
Shoulder σπάλα (spala).
Shoulder blade: ωμοπλάτη (omoplati)
Skirt steak διάφραγμα (diafragma)
Slice τρανς (trans, from the French tranche). Very little fat or bone, often used in thin slices as in Wiener schnitzl.
Tail: ουρά (oura)
Tongue γλώσσα (glossa); γλώσσα Ελβετική κοπή (glossa Elvetiki kopi, Swiss-cut tongue)
Topside/Cap: καπάκι (kapaki)
Topside/salmon cut: νουά (noua, from the French noix)
Top sirloin: κιλότο (kiloto). Good stewing meat
Trimmings: τεμαχίδια κρέατος (temachidia kreatos)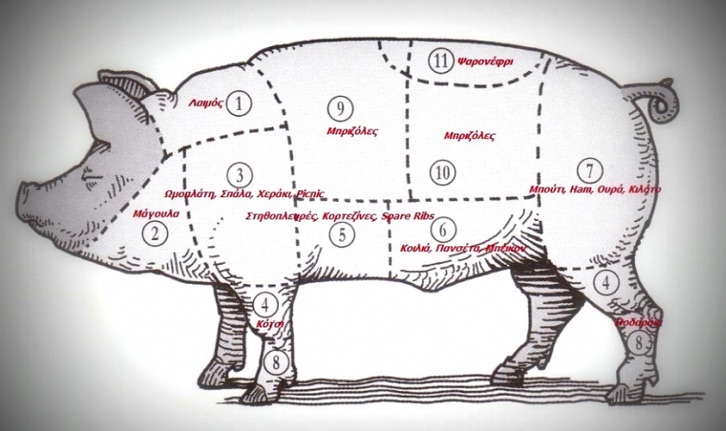 Neck: λαιμός (laimos)

Cheeks: μάγουλα (magoula)

Shoulder, picnic, pork or Boston butt: σπάλα (spala) χοιρινή ωμοπλάτη (chirini omoplati), κουτάλα (koutala), ρακέτα (raketa) παλέτα (paleta)

Knuckle: κότσι χοιρινό (kotsi chorino)

Ribs: στηθοπλευρές (stithoplevres); also spare ribs: παιδάκια χοιρινά (paidakia chirnia) or κορτεζίνα (kortezina)

Belly: λάπα/πανσέτα/κοιλιά/στήθος (lapa/panseta/kilia/stithos)

Ham: μπούτι/ζαμπόν (boúti/zambon)

Trotters (pig's feet) ποδαράκια (podarakia), ποδιά (podia)

Shoulder pork chop: σπαλομπριζόλα (spalobrizola)

Pork Chop: μπριζόλα (brizola)

Tenderloin: ψαρονέφρι (psaronéfri), φιλέτο (fileto)